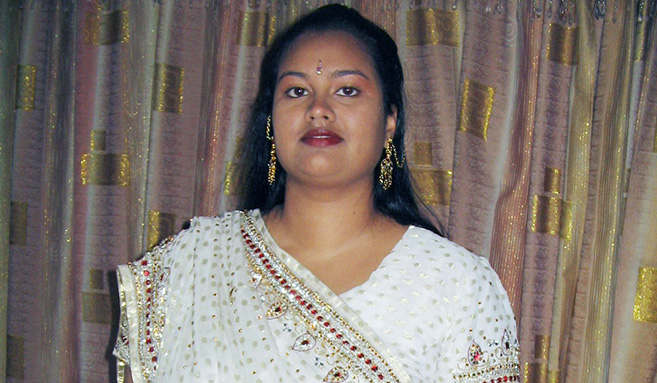 Reducing the Time and Cost of Drug Susceptibility Testing for Mycobacterium Tuberculosis
Drug susceptibility testing of Mycobacterium tuberculosis is often either time consuming or expensive, says UKZN student, Ms Tashmin Rampersad.
In her Masters research, Rampersad looked into alternative ways of speeding up this process by investigating the novel high throughput methodology known as multipoint inoculation which offers the advantage of testing multiple isolates on one drug embedded medium, thus reducing the time and cost of drug susceptibility testing.
The study was significant because an accumulative number of TB patients, especially in the local context, showed drug resistance. Conducting rapid tests to discover which drugs the TB bacteria in a person were sensitive to, was one such way of improving the disease's management and treatment.
Rampersad presented the study at the College of Health Sciences' Annual Research Symposium where she said there was a lack of high throughput methods for resistance testing of laboratory isolates.
Although the multipoint inoculation had been performed with other bacterial isolates, it had never been performed using Mycobacterium tuberculosis due to its slow growth and the fact that it is a hazardous infectious agent, she explained.
Supervised by the esteemed Professor Willem Sturm and Dr Mantha Makume, her study used multipoint inoculation to test 12 anti-TB drugs for 30 Mycobacterium tuberculosis isolates and the results were analysed and compared to the gold standard - agar proportion method.
Rampersad said susceptibility testing of one more drug was done using multipoint inoculation and the gold standard in the study.
'The expected outcome is to conduct a third susceptibility test and compare this to multipoint inoculation and the gold standard.'
'TB is a widespread disease that raises concern in HIV-infected individuals and immune compromised individuals in general. This makes TB research a passion of mine; knowing that I am contributing to the fight against it or making at least a small impact to society.'
Rampersad attained a Bachelor of Science degree in Microbiology and Biochemistry before graduating with a Bachelor of Medical Science Honours degree in Medical Microbiology.
She said UKZN was her institution of choice for her Masters research because of its international recognition and state of the art facilities. 'Research conducted here is also very interesting and ground-breaking.'
Rampersad added that after completing her Masters research on TB, pursuing a PhD was at the top of her list.

'My parents and brother have been my greatest support throughout my academic career. Their undying love and encouragement keep me moving forward,' she said.
Lunga Memela