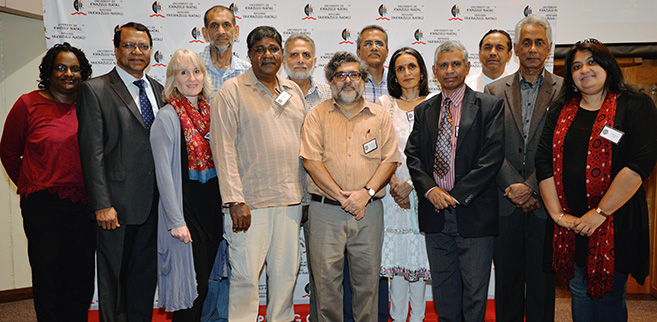 UKZN Hosts Indian Diaspora Conference: Celebrating 155 years of Indians in South Africa
The School of Religion, Philosophy and Classics (SRPC) within UKZN's College of Humanities, in collaboration with other colleagues both from within UKZN and also from other universities, recently hosted an enlightening Indian Diaspora Conference. Under the theme of "Ethnicity, Race and Citizenship: Place of Indians in the new South Africa", it took place at the Graduate School of Business (GSB) Auditorium, Westville campus.
Emeritus Professor Pratap Kumar said, 'The Conference sought to understand and appreciate as well as to conceptualise Indian presence in South Africa and assessed and took stock of their contributions to the South African way of life as a whole, their troubles and anxieties not only of the past but also of the present.'
One of the keynote speakers at the Conference, Professor Vinay Lal of the University of California Los Angeles, discussed the "Future of Indians in the Diaspora under two modalities of thought and action".
He stated that diasporic Indians must offer their allegiance to the idea of the nation-state, attempt coalition-style politics with other communities and groups of those who are not only marginalised, peripheral, and disenfranchised, but whose knowledge systems have, through the processes of colonialism and management, and with the aid of Enlightenment notions of science, rationality, and progress, been rendered powerless and superfluous.
'Diasporic Indians cannot reasonably look to the Indian government for succour and assistance, and whatever the strength of the emotional and cultural ties between them and the "motherland", their centre of being lies elsewhere. That question, 'what can India do for people of Indian ancestry abroad', begs to be effaced.'
'There is a greater courage, which diasporic Indians have seldom displayed, in reconstituting identity along the lines of political and cultural choices, and in defiance of received categories of knowledge. Perhaps, in this endeavour, placed as many diasporic Indians are in an in-between space, they may yet be in the position of trying to give society a new, at least slightly more human, face,' said Lal.
The Conference also saw scholars and academics both from South Africa and abroad sharing their research on Indian diaspora experiences under the sub-themes of Memory, Biography and History; Gendering Migration; Culture, Heritage and Language; Citizenship, Identity and Belonging, Historical and Contemporary Migrations; Religion, Ethnicity and Community; Literary Identities; Race, Class and Identity; Diaspora and Identity; Public Health, Youth and People and Post-Apartheid discourses on the Status of Indians in South Africa.
UKZN academics and students that presented at the conference were:
Elizabeth Adetola and Samuel Uwem, (PhD Candidates) 'Study Experience of Indian Students and Inter-Racial Relations at the University of KwaZulu-Natal'
Christopher Eley (MA Student, History)'Challenging the Abortion and Sterilization Act of 1975 - The
Abortion Reform Action Group and multiracial activism in 1970's Durban.'
Professor Kalpana Hiralal (Historical Studies) 'Gender and Migration in the Indian Ocean Region: The Impact on the Wife left behind'
Temitope Ebierein Ige (PhD Candidate, Public Policy) 'Gender, Migration and Education: A Case Study of Female Immigrants at the University of Kwazulu-Natal'
Gerelene Jagganath, (Anthropology) 'Highly skilled migrant trajectories'
Professor Sultan Khan (Sociology) 'Indian diaspora's contribution to Social Welfare Services – Case Study of the former Durban Indian Child Welfare Society'
Professor Pratap Kumar (School of Religion, Philosophy and Classics) 'Revisiting Indenture in the discourse of the Indian Diaspora'
Professor Brij Maharaj (Geography) 'South Africa needs an 'Idi Amin'? The Indian Question in the post-apartheid era'
Joseph Mbalaka, (History Postgraduate Student)'Malawian Muslim Women: Migration, Settlement, Ethnic Relations, Identity, and the Future in South Africa, a Case Study of Durban and Surrounding Areas'
Mrs Cherry Muslim (Lecturer, School of Religion, Philosophy and Classics). 'The Resident Indian: 'The Onion Tears' Revelation'
Dr Lubna Nadvi (Political Science). 'Born a Pakistani, Raised as a South African, Classified as Indian: Celebrating Multiple Identities in a Globalised World Order'
Mphumeleli Ngidi (PhD Candidate, Department of Historical Studies). 'Race, Community and Identity: Sporting Club D'Alberton Callies, 1962-1996'
Sunday Oberbhamji, (PhD Candidate, Politics) 'Life across Borders: A Case Study of Immigrant Nigerian Women in Kwazulu-Natal (KZN), South Africa'
Perumal, D (Law, PhD Candidate) 'Hindu Migrant Women and Marriage: Gender, Law and the "Meaning of Wife" in the Natal Courts (1872-1935)'
Sasha Rai (History Postgraduate Candidate) 'The "Apartheid" of Spaces, Places and Voices: A Feminist Challenge to Religious Patriarchy in the Muslim Community – T.I.P. and the Resurrection of the Family Eid Gah'
Mrs Shabnum Shaik, (PhD Candidate, Anthropology). 'HIV/AIDS and Muslims in South Africa: The Hidden Disease'
Tashmica Sharma, (Postgraduate Candidate, Geography) 'Memory, Nostalgia and Reality: A Socio-historical Perspective of the Grey Street Complex'
Professor Anand Singh (Anthropology) and Soomaya Khan (PhD Candidate) 'From Hope to Despair – South African Indian Medical Graduates and Their Responses to Contemporary Socio-Economic Conditions'
Professor Shanta Balgobind Singh (Criminology and Forensic Studies). 'Changing Lives: Rehabilitation of Indian Youth addicted to Drugs in Durban, South Africa'
Professor Goolam Vahed (History) 'Islamic schooling among Indian Muslims in South Africa: a case study of the Orient Islamic School of Durban.'