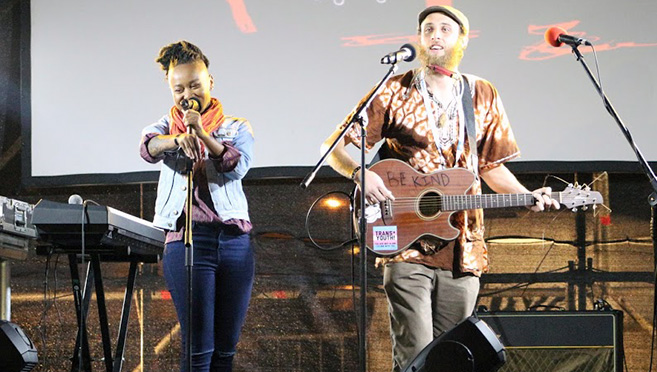 Successful 19th Poetry Africa finale at Rivertown Beerhall
The finale of the 19th Poetry Africa Festival – organised by UKZN's Centre for Creative Arts (CCA) within the College of Humanities – was held at the Rivertown Beerhall Gallery, a satellite of the Durban Art Gallery.
During the Festival the venue hosted an exciting programme of workshops, open mic performances, book launches as well as musical and poetry performances.
The final evening's programme kicked off with the annual Slam Jam event where Durban slam poets competed for the title of Poetry Africa Slam Jam champion.
Final performances from all 24 Poetry Africa participants kept audiences entertained.
Soweto-born, Dub-Poet and Writer, Mr Lesego Rampolokeng, said: 'I'm so grateful to Poetry Africa for including me again as one of their poets. Great event.'
Performer, Actress, Presenter and Poet Ms Lebo Mashile added: 'Well done to the Poetry Africa team for a wonderful Festival.'
The Schools Poetry Competition formed part of the Festival giving youngsters an opportunity to showcase their poetry writing skills. Entrants were invited to submit original poems.
Cash and book voucher awards were sponsored by Adams Campus Books.
The Poetry Africa 2015 Schools Poetry Winners in the English Category were:
Ms Ayanda Vuyokazi Mgoduka of Westville Girls High for: Letter to a Dark Skinned King
Ms Jenna Caitlyn Dunford of Westville Girls High for: An Abyssopelagic Melody
Ms Sarah Kitching of Durban Girls College for: Untitled.
The Poetry Africa 2015 Schools Poetry Winners in the isiZulu Category were:
Ms Sanelisiwe Majola of Dwengu High School for: Langa Lami Lokufa
Mr Sduduzo Philani Shandu of James Nxumalo Agricultural High School for: Emva Kokuhlupheka kwami Lomhlab' uzongifunz' Izithukuthuku zami
Mr Thobani Ngcongo of Dwengu High School for: Kunzima Emuva.
The Festival concluded with a performance from award winning Johannesburg-based artist Nakhane Touré. His debut music video for the single, Fog was nominated for a Design Indaba Most Beautiful Object award.
*The 19th Poetry Africa Festival was presented by UKZN's Centre for Creative Arts and made possible through support from the eThekwini Municipality, the KZN Department of Arts and Culture, the National Arts Council and the Goethe Institute. The Centre for Creative Arts is housed in the College of Humanities and is a special project of the Deputy Vice-Chancellor, Professor Cheryl Potgieter.
Melissa Mungroo