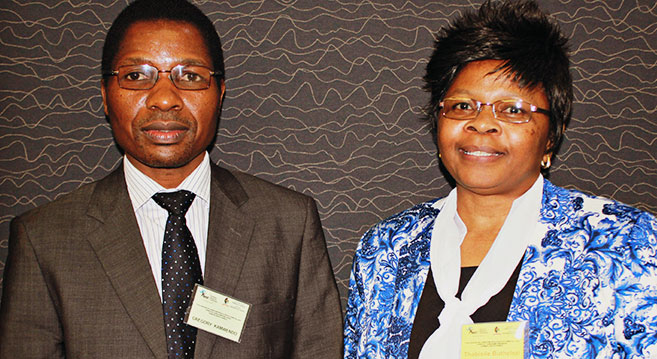 UKZN Academics Keynote Speakers at Language Education Colloquium
Dean and Head of the School of Education, Professor Gregory Kamwendo, and Professor Thabisile Buthelezi of the Language and Arts Cluster in the School, were keynote speakers at the Language Education in Curricula and African Languages Pedagogy Colloquium.
Kamwendo delivered his presentation on "Voices of Ignorance Versus Voices of Knowledge: Debates in Malawian Mass Media on English as a Language of Instruction".
Malawi unveiled a new language-in-education policy last year in which English becomes the medium of instruction in the first class of primary education instead of Chichewa (the national language).
'Whilst in sociolinguistic discourses, Malawi is classified as an Anglophone country, the reality on the ground points to the opposite direction since it is Chichewa and other indigenous languages that predominantly serve as home languages. The bottom line is that Malawi is not an English-dominant context,' he said.
Out of the intense debates, Kamwendo discussed two positions that emerged: those arguing from a position of knowledge (backed by empirical pedagogical evidence) and those arguing from ignorance.
Buthelezi then spoke on: "African Languages Pedagogy and Cultural Heritage Preservation: From Structural Towards Socio­cultural Approaches". He discussed historical developments in African languages pedagogy, arguing for the de-emphasis of structural methods to advance socio­cultural approaches that would preserve cultural heritage through language and literature education.
'Originally, the speakers of African languages did not use abstract writing systems and it was the European missionaries who first recorded African languages with an aim of translating the Bible. As Africans learned to read and write using their own languages, many utilised the opportunity to defeat the distance barrier and engage with one another through media and fiction.
'The result was the emergence of many African prolific writers who produced works of fiction in African languages such as isiZulu, Kiswahili, Sotho, Yoruba, Pedi, isiXhosa, and so on.
'Most of these works reflected the best responses of African intelligentsia registering the effects of racialised capitalism - Christian proselytising, land theft, marginalisation of Africans by different governments, cultural loss and change, the absurdity of racial discrimination, and many other socio­cultural and political issues,' said Buthelezi.
However, influenced by the missionaries' own linguistic approaches to learning and documenting African languages, Buthelezi noted that the pedagogy of African languages had long been dominated by structural approaches such as grammar­-translation method in language and formalism in literature.
'While such methods provide knowledge regarding the nature of language and the artistic form of fiction, they do not adequately engage learners to uncover the wealth of ideas that are embedded in both African languages and the related fiction material,' she said.
Using the socio­cultural theory, Buthelezi showed the necessity for African languages pedagogy to pursue the wealth of knowledge embedded in these languages by carefully considering a noticeable move away from formalistic approaches in language education.
Buthelezi recommended a review of pedagogical approaches in language and literature teaching of African languages.
Melissa Mungroo