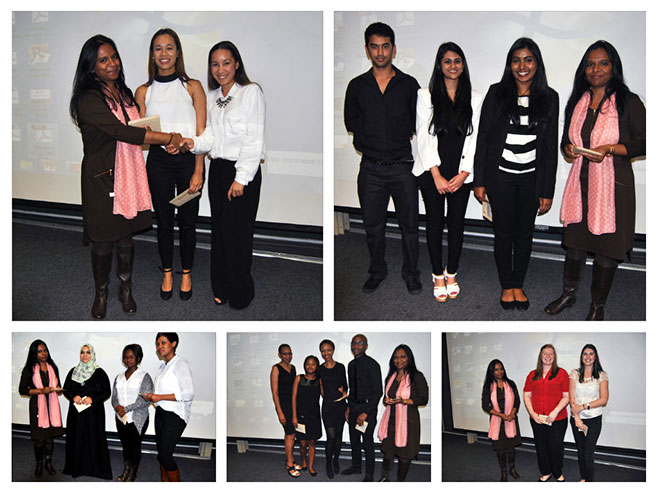 Poster Presentations by Third Year Medical Students
UKZN's third year Medical students presented their research findings at a Symposium hosted by the School of Nursing and Public Health on the Nelson R Mandela School of Medicine campus.
The 220 Medical students, divided into 72 self-selected groups, conducted research in their selective sites in their 'home communities'. The research was based on the 'community diagnosis' made as part of the Selectives 01 block in the second year of study.
Public Health Specialist at UKZN and a member of the Selectives Co-coordinating Team, Dr Stephen Knight, said: 'As Medical students return "home" for their selectives, research is conducted in a range of townships, rural communities and towns and urban communities in order to gain a better understanding of what affects their local communities.'
The research involved surveying participants from the local community after ethical approval was received from the Biomedical Research Ethics Committee (BREC) and gatekeeper permission from the Provincial and Municipal Departments of Health.
The top eight groups were later given an opportunity to present their research to a wider audience that included representatives from the District Health Offices, KwaZulu-Natal Department of Health, BREC, and senior academics from UKZN.
Selectives Research Co-coordinator, Dr Saajida Mahomed, a Public Health Medicine Specialist, said the initiative allowed students to showcase their work to relevant external stakeholders 'The students were very excited at having this opportunity, and feel like their work is making a difference in their communities.' The students will use their research findings to develop and implement a health promotion intervention in their fourth year of study.
A wide array of topics reflecting the burden of diseases in South Africa - including non-communicable diseases, HIV and AIDS and Gastroenteritis - were covered. The focus of the studies was largely on patients' knowledge of these diseases.
The top five presentations were from:
Group 2: Knowledge of risk factors associated with HIV transmission among Primary Health Care (PHC) attendees at Mhlakulo Health Care Centre (MHC), Mthatha, presented by Ms Zukiswa Cabangana, Ms Sipesihle Lawana, Mr Ntando Ntsalaze and Ms Vuyelwa Qwesha.
Group 4: The Knowledge, Attitudes and Beliefs of HIV Prevention among adults attending at the Newcastle PHC during June 2015, presented by Ms Phumelele Luvuno, Ms Fathima Osman, Ms Zandile Sibeko and Ms Mandisa Ziqubu.
Group 34: Hygiene and sanitation practices in patients with gastroenteritis in Reservoir Hills, 2015, by Mr Theshan Naidoo, Ms Riona Singh and Ms Sumika Singh.
Group 59: Knowledge and Awareness of Asthma in Wentworth Primary School Teacher, by Ms Odielle Pather and Ms Robyn Thompson.
Group 64: The knowledge and practices of hormonal contraceptive use in women aged 18-50 years old, in PHC facilities in Westville, 2015, presented by Ms Ashleigh Dowel and Ms Kirsty Reynolds.
BREC Chairperson, Professor Joyce Tsoka-Gwegweni, said she admired the quality presentations made by the students, 'I enjoyed reviewing your protocols and listening to your presentations.' She said the students' work was of a high standard and quality.
Public Health Medicine Specialist Dr Ozayr Mahomed thanked the students for their hard work. 'They have been through the entire process of writing a research protocol, obtaining BREC approval, conducting the research and preparing a scientific poster.'
He acknowledged the role of the BREC committee, KZN Department of Health, and the eThekwini Municipality Health Unit for facilitating and fast tracking student access and permission.
Nombuso Dlamini