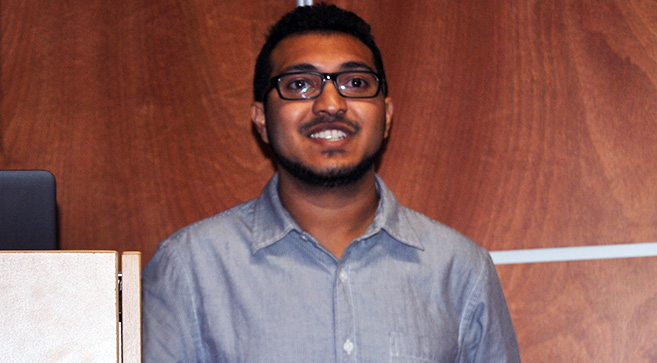 Study by Masters Student Wins Award at CHS Research Symposium
Masters student in UKZN's School of Laboratory Medicine and Medical Science, Mr Naeem Sheik Abdul, presented a study examining the effect of a fungal toxin, fusaric acid, on metabolism in cells at the 2015 CHS Research Symposium.
The study titled: "Fusaric Acid Induces Mitochondrial Stress in Human Hepatocellular Carcinoma (HepG2) Cells", earned Abdul third place in the Masters Oral presentation category.
The study on the effects of fusaric acid on metabolism in a human liver cell line, aimed to determine whether fusaric acid can mimic nicotinamide, in order to inhibit an enzyme (Sirtiun3) that allows for energy production and detoxification of reactive oxygen species (a mechanism of protection) in these cells.
Abdul said: 'This toxin is neglected in terms of research and as a result not much is known about its effects.'
The results showed that fusaric acid does induce mitochondrial stress. 'Damage to mitochondria is at the crossroads between normal metabolism and cell death. The interplay between apoptotic regulators and mitochondrial energy metabolism should therefore be considered during the search for novel anticancer drugs,' explained Abdul.
According to Abdul, his study is novel in terms of elucidating a mechanism of action for this toxin to provide a better understanding of its implications in health and disease.
He said the study may form the basis for further work to translate fusaric acid from a bench top anti-cancer compound to a clinical setting.
Abdul said the application of the research - conducted in the Medical Biochemistry and Chemical Pathology laboratory in the George Campbell building at Howard College – was twofold. 'Maize is the staple diet of many South Africans - that being said fungi parasitizing food and feed often produce toxins such as fusaric acid. This study shows a mechanistic dysregulation of mitochondrial function by fusaric acid and shows how this mycotoxin can be implicated in illness and other socio-economic settings.'
'The results also reveal that fusaric acid may possess tumoricidal capabilities by increasing mitochondrial stress and the generation of reactive oxygen species resulting in cell death. However, further work must be done to determine its efficacy.'
He said although this study had shown promising results more work was needed, particularly in in vivo models, to determine the toxicity of fusaric acid holistically as well as further studies to fully evaluate its efficacy as a possible chemotherapeutic agent.
Abdul is currently working on the effects of fusaric acid to inhibit mitochondrial biogenesis thus further affecting cell functioning. He plans to complete his PhD and thereafter get into drug development.
The "eat an elephant one bite at a time" principle keeps Abdul going. 'This makes the often complex and unceasing methodology of scientific research more manageable,' he added.
'I am grateful to all those who played a role in my success, including UKZN's Department of Medical Biochemistry, especially Professor Anil Chuturgoon and Ms Savania Nagiah, as well as my family and friends. I did not expect the award. I just tried to do my best under the nervous pressures of presenting.'
Nombuso Dlamini