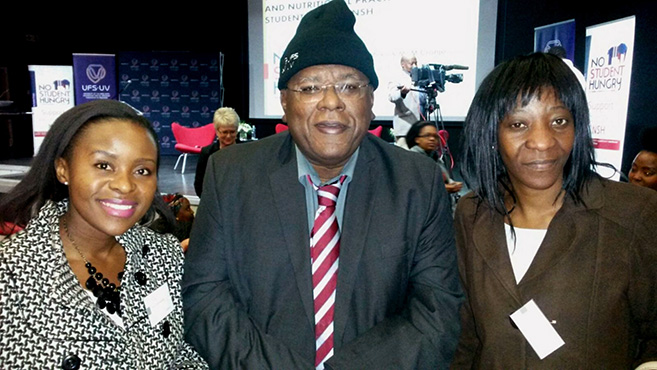 UKZN Academics Speak at SA Higher Education Colloquium on Food Insecurity at Universities
Several UKZN academics and students attended and spoke at a South African Higher Education Colloquium on the topic of: "Food Insecurity on University Campuses", which was held at the University of the Free State (UFS) in Bloemfontein.
The gathering attracted a variety of experts from around the country who presented on the threat food insecurity poses to the tertiary studies of many students.
The event formed part of UFS's No Student Hungry bursary programme, with presentations during the event suggesting that more than 70% of students who drop out of university early in South Africa do so because of food insecurity and financial problems.
With university becoming increasingly accessible, thanks to bursaries, many students from low income households enter tertiary institutions but often do not have funds other than their bursary tuition available for food, and are often required to support their families as well.
UFS Vice-Chancellor, Professor Jonathan Jansen, said in his opening address that providing food for food-insecure students, would confer dignity to them as well as cover their basic needs.
Dr Nick Munro of the Discipline of Psychology at UKZN's School of Applied Human Sciences gave a presentation titled: "Hunger for Knowledge: Food Insecurity among Students at the University of KwaZulu-Natal". Munro, who was assisted in research for the presentation by colleagues Mr Michael Quayle, Ms Heather Simpson and Ms Shelley Barnsley, said among the findings there was a positive association between diet quality and variety, and academic performance.
Munro's presentation also recommended that research on food insecurity in students was replicated at other institutions with the aim of yielding a national indicator of food insecurity in higher education students, and with the eventual aim of informing a national response in Higher Education nationwide.
Dr Suna Kassier of the Discipline of Dietetics and Human Nutrition at UKZN ­spoke on: "The Plight of Food Insecurity among University Students on Financial Aid", saying UKZN helped students with planning their often limited budgets so that they made good food choices, while also providing those in need with food vouchers.
Ms Stella Sabi of the African Centre for Food Security (ACFS) at UKZN gave a presentation titled: "Investigating Perceptions of Food Insecurity Complexities in South African Higher Learning Institutions". Sabi presented an overview of possible solutions to the food security crisis faced by some students, saying that university interventions should be institutionalised to ensure their success.
'Food insecurity threatens South Africa's economic advancement and transformation as students' academic performance and degree completion are compromised, thus reducing their ability to enter the labour market.'
Ms Mbalenhle Gwacela, also of the ACFS, who spoke on: "Achieving Food Security for University Students through Stakeholder Joint Participation: A Food Bank Model", said universities did not exist in isolation, but were part of larger society and so should encourage stakeholder joint participation in the development of a Food Bank model.
The general feeling of the Colloquium was that, ensuring food security for students to enable them to adequately cope with the demands of tertiary education would take a collective effort from many quarters. However, with the research coming out of UKZN and other South African universities committed to this cause, indications were that with proactive actions from university leadership, solutions to food insecurity were available on campuses to help students achieve their potential.