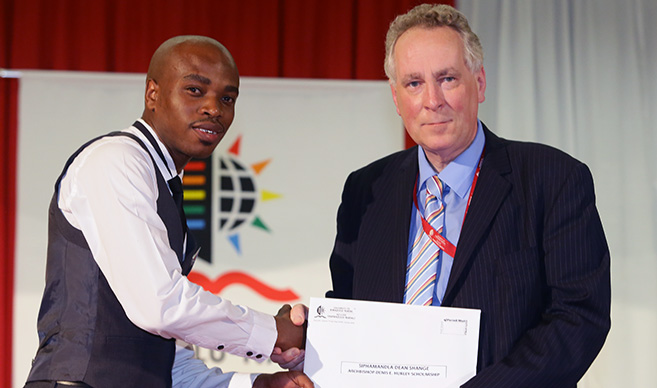 Archbishop Denis E. Hurley Scholarship Recipient Triumphs over Adversity
At the tender age of 13, Archbishop Denis E. Hurley Scholarship winner Mr Siphamandla Shange's life was already a struggle.
He had to balance doing Grade 8 and working part-time at a car wash in KwaMashu to help his grandmother, a domestic worker, feed a family of eight.
Considering the progress he has made, Shange - currently studying for an Honours degree in Information Systems and Technology – has a reason to be proud.
He is a recipient of a Scholarship that recognises disadvantaged academically challenged postgraduate students whose study areas incorporate community involvement, leadership qualities and ethical vision.
'Receiving the Scholarship means I have succeeded,' said Shange. 'A lot of people say there isn't help out there, but this shows that there is. I will always have people to thank for my accomplishments, especially my mom and late grandmother. Because of their love and sacrifice I have been able to achieve this academic accomplishment even though money has always been tight.'
With knowledge and skills gained through his research project titled: "Adoption of Assistive Technology (AT)", Shange aims to help improve the lives of disabled people. 'His research explores the effectiveness of technological assistive devises available on the market to help individuals living with disabilities.
'Assistive devices often fail because there's a lack of assistance from caregivers. There are steps that an individual must take to ensure the success of a device,' said Shange.
'Those steps entail the development of AT, training, interest, facilitating and customisation. If this is not done properly, the user will not get the desired result from the device. Each step is important to the success of AT,' said Shange.
Shange is currently in the process of applying for a scholarship that if successful will see him study for a Masters degree at the University of Liverpool in England.
'Attaining an education and being of service to others is my top priority,' he said. 'My family has made many sacrifices to allow me to focus on education throughout primary and secondary school. I now have an opportunity to become the first person in my family to have attended university and make them proud,' he said.
Thandiwe Jumo