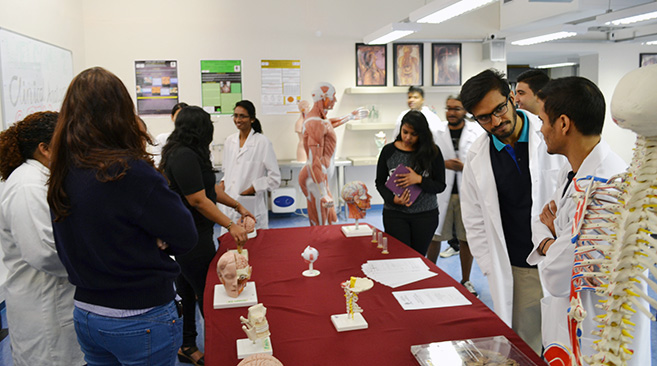 Attracting Young Medical Scientists into Clinical Anatomy Research
Final year Bachelor of Medical Sciences and Bachelor of Science students recently learned about exciting research opportunities at UKZN during the Discipline of Clinical Anatomy's Open Day for postgraduates.
The Clinical Anatomy Lan was a hive of activity as students met with Lecturers while seniors shared their insights and experiences on presenting research papers locally and internationally. The activities were supported by the College of Health Sciences as UKZN prides itself in being a research-led institution.
'I was the sporting type until I joined UKZN and fell in love with anatomy,' said third-year student, Ms Nokwanda Mkhize (21) of Umlazi. Mkhize said she loved the practical size of anatomy – 'the dissections' – and intended to further her studies in the discipline.
Mr Zola Mpofana (21) said he loved learning about the brain, heart, liver and immune system. His goal was to complete his Bachelor of Medical Sciences degree and then pursue his passion for medicine.
'I did my Honours last year and decided to take my research to the next level,' said masters student, Ms Bianca Roelofse, whose area of interest is the histology of the suprarenal gland and kidneys. She said she looked forward to taking her research to PhD level.
'It's important to recruit talented students to postgraduate studies,' said Lecturer and PhD candidate in the discipline, Mrs Pamela Pillay, whose research interests include human anatomical variations, dental forensics, medical law and ethics. This not only enhances personal careers but also makes an invaluable contribution to the country's knowledge production, Pillay said.
Current research fields in the Discipline of Clinical Anatomy include: arthrology and biomechanics; cardiovascular, forensic and radiological anatomy; human anatomical variation; andrology, medico-legal ethics and socio cultural, and the praxis of anatomical research.
Lunga Memela