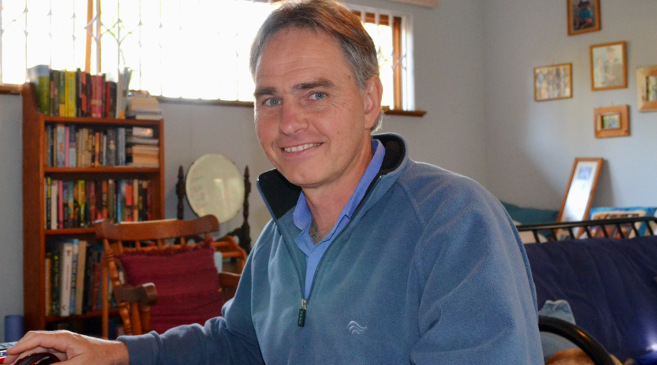 UKZN Academic receives SA's Order of Baobab – Silver
South African President Jacob Zuma awarded the Order of Baobab – Silver medal to UKZN lecturer and Principal Specialist of Family Medicine, Dr Andrew Ross.
The founding member and current trustee of the Umthombo Youth Development Foundation (UYDF), Ross was nominated for the award in recognition of his outstanding work with youngsters from rural areas, many of whom have gone on to qualify as health care professionals.
National orders are the highest awards South Africa, through the President, can bestow on its citizens or eminent foreigners for exceptional contributions and distinguished service beyond the call of duty.
'I was speechless partly because I didn't know I was nominated,' said Ross. 'The award is quite prestigious. There are a lot of talented and amazing people out there who get nominated each year and I was surprised they considered the work I have been involved in.'
Ross, the former Medical Superintendent of Mosvold Hospital in the Umkhanyakude District, initiated the UYDF bursary programme to support impoverished youth from rural communities of KwaZulu-Natal as they sought to become healthcare professionals.
His work became increasingly recognised for giving hope in rural communities who use rural hospitals, and for this, Ross was named a Lead SA Hero in 2013, also receiving the Sunday Times–Johnny Walker Award for the Nation's Greatest Individual in 2014.
It all began in 1999 when Ross started asking community leaders to get members of their communities to each donate R1 to support four learners who wanted to study Medicine, Optometry, Physiotherapy and Pharmacology. Since these humble beginnings, the UYDF has grown exponentially, today supporting 238 students and boasting 218 health care graduates across 16 disciplines.
More than 90% of students' progress each year and 71% of UYDF graduates have remained in their rural districts after completion of their work back commitments.
Ross was lauded for this because his work, in line with the National Department of Health's re-engineering of primary healthcare, addresses the human resource shortages in rural hospitals, thereby improving healthcare to rural communities.
'UYDF scholarships are only provided to students from rural areas who have obtained places to study health sciences degree at a university,' said Ross. 'Furthermore, these youngsters will have shown initiative by doing voluntary work at a local hospital, been selected by a local committee and signed a year-for- year work back contract which they must fulfil upon completing their studies.
Among the latest UYDF graduates is 23-year-old Mr Njabulo Nhlenyama from Mbazwana in the Umkhanyakude District who topped UKZN's Dental Therapy class and graduated cum laude this year. On the same day, Ms Nontobeko Nsele from Mbazwana, also supported by UYDF, was accompanied by cheers and ululations when she graduated cum laude and as UKZN's top Optometry student. Nsele received 17 merit certificates and Dean's Commendations for academic excellence at UKZN.
Ross explained that unlike other bursary programmes, UYDF students are not just awarded the scholarships and expected to succeed thereafter.
'UYDF provides comprehensive mentoring and financial support to the students and there is strong emphasis on the need for each student to complete their qualification in its minimum duration and return to work in the district hospital from which they were selected.'
Ross said it was essential to provide comprehensive support to ensure mutual success for the student and UYDF.
'The scholarship scheme has been amazing!' He said he gets a kick from watching the students grow, obtain their degrees and get married, knowing that their families will also benefit.
Ross's on-going PhD documents the experiences of rural scholars who enter into university and explores how they have progressed in the programme to become professional in their respective fields.
UYDF continues sourcing funds that will make the dreams of many rural youngsters come true. 'There's so much wasted potential in South Africa,' said Ross.
In 2007 UYDF received Discovery's Excellence Award worth R1million which enabled the Foundation to employ Dr Gavin MacGregor who is responsible for the fundraising and can be reached on gavin@umthomboyouth.org.za
The scholarship scheme has grown from needing a few million rand each year in 2007 to needing more than R15 million a year to provide comprehensive support to the increasing student cohorts which the Foundation supports.
'An investment in the youth supported by the UYDF is an investment in the future as these young people get an education, obtain employment and help their families out of poverty,' said MacGregor.
Lunga Memela