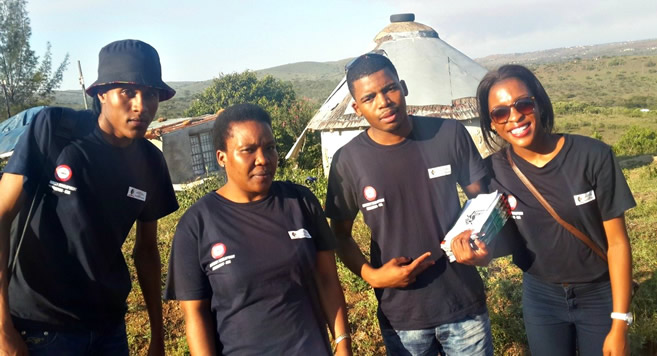 Community Development Association Embarks on Outreach Programme
The Community Development Association (CDA) on the Howard College campus recently embarked on its maiden community outreach programme, targeting rural schools and culminating in a visit to four schools in Empangeni.
During the campaign, the CDA reached out to more than 600 matric pupils at Welabasha and Sizakahle high schools who received CAO application forms and were told about how to apply to study at UKZN.
They also took part in career guidance workshop to help them shape their careers beforehand as well as make decisive career choices.
Speaking about the campaign, founding branch member and Deputy Chief Executive Officer, Mr James Ndlovu, applauded his team for initiating the project.
A Social Sciences student, Ndlovu, said: 'The CDA team saw the need to assist students from a disadvantaged background, hence we decided to channel a programme aimed at addressing this.
'We aim to make a positive impact in our world and will continue to encourage our fellow young people to commit to their social responsibility through engaging in community work.'
In this particular initiative, the CDA partnered with the SASCO KK Papiyane Branch as well as Isibani, ensuring the success of the campaign.
Ndlovu added that this was the first of many similar initiatives planned in the future.
A member of the Howard College SRC, Ms Minenhle Myende, who was part of the delegation, emphasised the need for exemplary leadership among student leaders and called upon them to lead by example and be role models in their respective communities through partaking in community upliftment initiatives.

*CDA is a well-established student run society at UKZN with branches on the Pieterrmaritzburg and Edgewood campuses. Its main function is to raise social awareness on critical issues such as HIV and AIDS and develop schools' engagement in matters related to leadership and extra curriculum activities. It has four associates - HIV and AIDS, Education and Bursaries; Public Speaking and Debating; Sports, Arts and Culture, and Masakhane Youth Leadership.
Melissa Mungroo