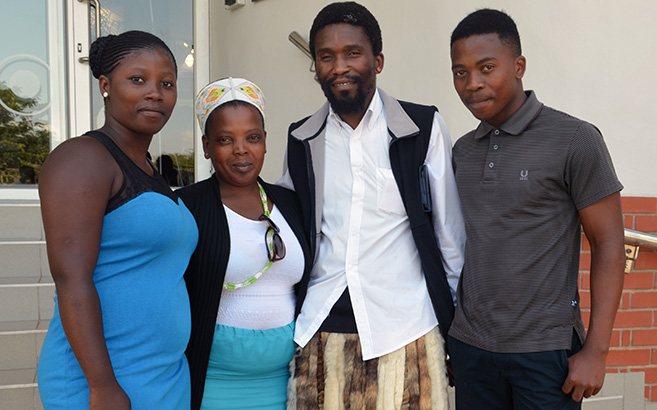 Warm Welcome for Aspirant Engineers
Dean and Head of the School of Engineering at UKZN, Professor Cristina Trois, warmly welcomed UKZN's freshest crop of Engineering students and their parents at a special event in UNITE Building, the state-of-the-art home of Engineering on UKZN's Howard College campus.
The aim of Parents Day was to share information about UKZN and Engineering with parents of newly registered first year students.
Besides receiving an overview of Engineering courses and options, parents were also provided with general information on UKZN's vision and mission, support services for students and financial aid options.
'Thank you for entrusting us with your children,' said Trois. 'We guarantee they will receive a top-class education whilst they are here with us at UKZN. All our courses are fully accredited, both nationally and internationally.'
Among those at the day were Mr and Mrs Kevin and Wendy Charles, with new Chemical Engineering recruit, Miss Michaela De Sousa, who is in their care. De Sousa, who attended Savannah Park Secondary School in Shallcross, Durban, said she had always wanted to study Chemical Engineering and was excited about embarking upon her new university career.
Also at the event were Mrs Kristy Moodliar with her son, Dareshan, who was head boy at Star College where he scored four A's in his matric exams. Determined to follow in his father's footsteps Dareshan will study Civil Engineering and ultimately work for and improve the family's trucking and transport business. He chose UKZN over offers from Wits and the University of Pretoria, 'because home is best'.
Mr and Mrs Michael and Jemisayi Banda travelled all the way from Zimbabwe to see their son, Tinashe, settle into UKZN. Tinashe, who has been accepted to study Mechanical Engineering and will stay in residence at Howard College, said he was grateful he would have the family support of his uncle, Abraham, who lives in Durban.
The Gcabashe family arrived in traditional attire. Young Philani Gcabashe, who attended Okumhlphe High School in Umlazi, will study Land Surveying at UKZN. Ready to tackle this new challenge, he will be the first child in the family to attend university and is determined to set a good example for his younger siblings.
Sally Frost