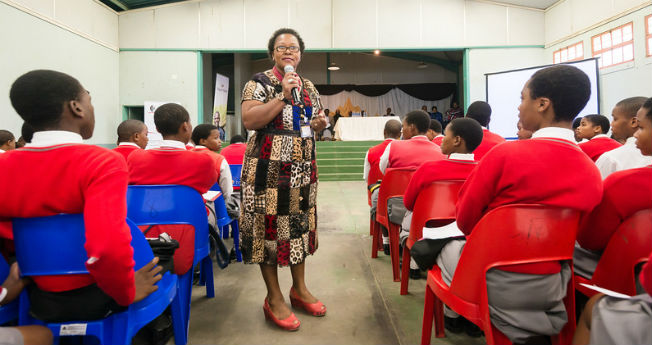 Education Academic motivates Learners at eNgonyameni Careers Day
Dr Makhosazane Nkosi from UKZN's School of Education gave a motivational talk to learners from Mhawu High School in eNgonyameni near Umbumbulu at their Careers' Day event recently.
She based her talk on her own personal experiences, which included her early education at a deep rural school in a remote area. Her mother was illiterate and she grew up as an orphan. She also had to evade bride abduction. Nkosi identified with the learners and spoke to them about how she overcame the challenges of poverty to get to where she is today - an academic and lecturer at UKZN.
'I was the first out of 10 of my siblings to complete matric and go on to university. Despite all barriers, my sense of purpose prevailed. I had a vision and a desire to pursue my goals. Had it not been for the support, advice and motivation of my teachers, I would not be who I am today.'
She also talked to the learners about the issues that they are dealing with in their schools and communities such as teenage pregnancies, the patriarchal norms and values still entrenched in the community, poverty and violence against women.
'Do not perpetuate the vicious cycle of poverty, make something of yourself. Get up off your feet and do not use apartheid as an excuse. Utilise resources, research career prospects and funding opportunities to enable you to attend university. Apply early to university and work hard and consistently in your studies. You can be whatever you want to be. Your circumstances should not stop you.'
As a former Subject Advisor for Life Orientation (LO) in the Pinetown District, Nkosi lamented at the lack of career guidance by teachers at the School. Addressing the teachers, she said: 'You need to provide support and motivate learners. Connect with them. Life Orientation might not be your area of specialisation and you might be battling with the content. If you are able to seek assistance from the relevant people and establish a relationship to ensure curriculum delivery. Make a positive impact on learners' lives.'
Nkosi also focused on the community and how their social issues - practice of bride abduction, drug abuse, and polygamy etc – is impacting on learners. 'The social issues emanating from the community are impacting negatively on the teaching and learning process in classrooms. You need to deal with these issues at the community level.'
By addressing these issues with the community, Nkosi hopes that she has raised the necessary awareness to conscientise them.
Ms Busisiwe Mdletshe from the BusiM Foundation was grateful to the School of Education and Nkosi for their involvement in the Careers Day event. 'She actively interacted with the learners. Nkosi managed to keep everyone intrigued by her speech as she touched on the critical issues. Learners had heard about different careers from other speakers, but the challenge she raised was dealing with learners, who are demotivated because of societal issues.'
'She presented a beautiful speech that was wrapping up all other speakers speeches. She gave the learners hope, talking about breaking poverty, and the gist was "Yes You Can". Not only were learners inspired by her speech, but the community and other speakers as well.'
Mdletshe plans on building a partnership with the School of Education that will add value to their annual careers' day and provide inspiration and motivation to the learners.
Community Leader, Mr Nombela and Mhawu High School Principal, Mr Msizi Mbhele hope to meet with Nkosi in the future as they believe that she would be an asset to their community and schools.
Nkosi is continuing to target schools in deep rural areas in an effort to motivate learners to achieve success in their lives.
Melissa Mungroo