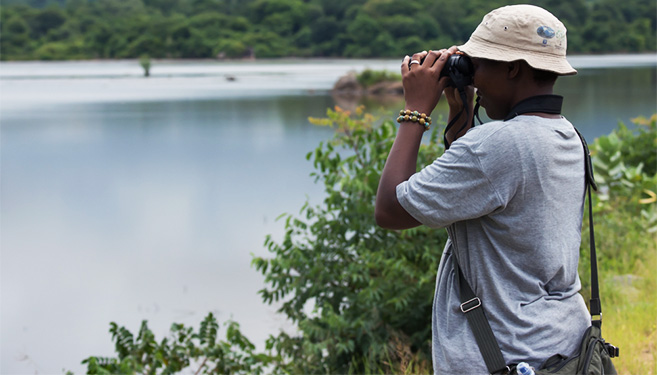 PhD Graduate's Lovebird Research featured on BBC
The BBC News Africa page has featured research by UKZN PhD graduate Dr Tiwonge Mzumara-Gawa on incidents of waterhole poisoning affecting Lilian's Lovebirds in Liwonde National Park in Malawi.
The BBC became aware of Mzumara's study after results from it were published in the African Journal of Ecology in March this year.
The study, titled: "The Drinking Habits of the Lilian's Lovebird and Incidents of Poisoning at Waterholes", is co-authored by Mzumara's supervisor, Professor Colleen Downs, and co-supervisor, Professor Emeritus Mike Perrin.
Mzumara's study revealed that almost a third of the endangered Lillian's Lovebird population in Malawi was at risk of being poisoned annually because of the illegal activity of subsistence hunters poisoning waterholes in the region to capture larger animals for food.
The Lilian's Lovebird population in Malawi accounts for about 20% of the species' global population. Mzumara's research showed that this poisoning caused the deaths of five to 50 of the small, colourful parrots every year between 2000 and 2012.
In her study she acknowledged the recent decline of poisoning incidents but called for the Malawian government to put further measures in place to prevent the deadly activity in protected areas. According to Mzumara, about 32% of the lovebird population in Malawi is in danger of encountering a poisoned waterhole, some of which are near to their breeding areas.
The lovebirds, which were observed to fall prey to poisoning primarily in the dry season, were not the only creatures affected by the poisoning, with vervet monkeys, a hippo, baboons and a warthog being found dead near the pools.
Park scouts recorded 31 cases of waterhole poisoning between 2000 and 2012, with cheap, widely available pesticides being used. Mzumara's work will contribute to the currently scarce body of knowledge about the poisonings as well as to the conservation of this important species. She hopes she can encourage increased patrols and camera traps in the area where repeated poisonings have been observed.
With this increased international coverage, Mzumara hopes news of her work will reach people who can assist with the problems the park is facing. She says many of the primary problems stem from a lack of funding for law enforcement activities.
'My love for nature and Malawi drives my passion for this work,' said Mzumara. 'I cannot imagine Malawi without its amazing biodiversity thus I take it on me to play my part to ensure that never happens.'
Having been awarded her PhD, Mzumara is currently working on two projects on parrots. The first is in collaboration with the World Parrot Trust, the FitzPatrick Institute and BirdWatch Zambia, and aims to understand the distribution of Lilian's Lovebirds in Zambia, which is the core of the species range.
'We hope to understand how much suitable habitat is remaining and also investigate if incidents of poisoning are also taking place in that country,' she explained. Her work is funded by a British Ecological Society research grant.
Mzumara is also working in Liwonde National Park on a project that developed whilst she was completing her thesis. She is investigating how Brown and Grey headed Parrots are being affected by elephants destroying Baobab trees in which they breed.
Mzumara is inspired in her endeavours by a quote from World Wildlife Foundation founder Sir Peter Scott, who said: 'We shan't save all we should like to, but we shall save a great deal more than if we had never tried.'
Mzumara hopes her efforts will save a great deal more, and has already made a name for herself in her home country and overseas as a passionate researcher, having been awarded the International Young Conservationist Award by the International Ranger Federation (IRF) and the International Union for the Conservation of Nature - World Commission on Protected Areas (IUCN/ WCPA) in 2014.
She has shown extraordinary commitment to her conservation work and has played a key role in contributing knowledge to and increasing interest in bird conservation in Malawi. She is also heavily involved in initiatives to get more young people interested in birds through student involvement, school visits and citizen science.
Christine Cuénod