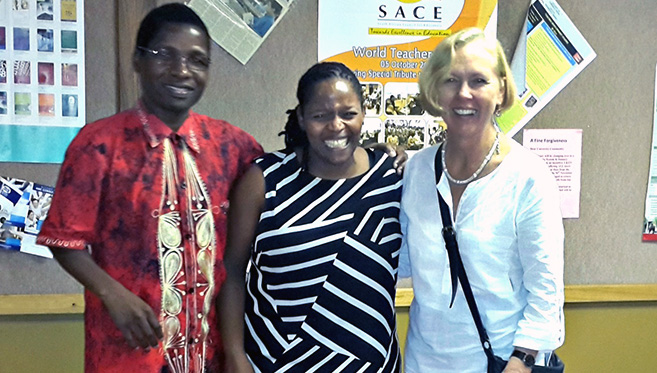 UKZN Academic Graduates with PhD from Nelson Mandela Metropolitan University
Lecturer in the School of Education Dr Fumane Khanare, who graduated with a PhD from the Nelson Mandela Metropolitan University (NMMU) in Port Elizabeth, dedicated her degree to her late grandmother 'Maqhaola Annacletta Ntlhoi who encouraged and supported her to excel in her studies.
Khanare's thesis, titled: "Rethinking Care And Support Of 'Vulnerable' Learners In the Age of HIV and AIDS: An Arts-Based Approach", explored secondary schoolchildren's constructions of care and support provided for "vulnerable" school children in the age of HIV and AIDS, and also how the use of participatory arts-based research can enable agency in their lives.
Khanare's study positioned within a critical paradigm used a participatory arts-based research methodology, taking research as an intervention approach. Working with 20 Grade 11 male and female school children from two secondary schools in rural KwaZulu-Natal, she used drawings, photovoice, collage as well as reflective free writing to generate data.
The bio-ecological systems theory of Bronfenbrenner and the structuration theory of Giddens were used to make meaning of data.
'I have many thoughts and feelings about the roller coaster of my PhD journey. Being part of the PhD cohort at NMMU and an academic member of staff at UKZN was such a useful combination. I made the most of my supervisor, colleagues, affiliates and friends. I was happy to learn a lot from all the massive networks around me and I was happy because I also had something to offer.
'I used to share my PhD journey with cohorts and at colloquiums or conferences and I would get cool and hot questions, suggestions and applause, among a range of different feedback. I realise that I was doing something bigger and more meaningful than just gaining a piece of paper.'
Khanare believes her research offers some significant contribution in education in the age of HIV and AIDS, defining new ways of defining "vulnerable" children and constructing care and support aimed at them.
She says a democratisation of care and support in schools is necessary in the age of HIV and AIDS. 'This is significant when one is working within complex and dynamic systems that are underpinned by several structures. My thesis offers persuasive evidence of original theoretical, methodological and conceptual contribution in rethinking care and support of "vulnerable" school children in the age of HIV and AIDS.'
Khanare's research received funding through a grant-linked bursary from the Every Voice Counts project and she received Sabbatical Grants to Complete Doctoral Degrees from the National Research Fund.
She is grateful to her family, friends, her supervisor Professor Naydene de Lange, Professor Relebohile Moletsane and the Dean and Head for the School of Education, Professor Gregory Kamwendo, for their ongoing support, guidance and advice.
Her mother 'Manthokho Clementina Khanare was happy and proud of her daughter's achievement.
On her future plans, Khanare said: 'I am looking for platforms to share my PhD journey and results. We should "walk and talk" our PhDs if we really think PhDs should make a difference to some community. I am also on the look-out for funding opportunities so that I can do a post-doc before "walking my talk".'
Melissa Mungroo