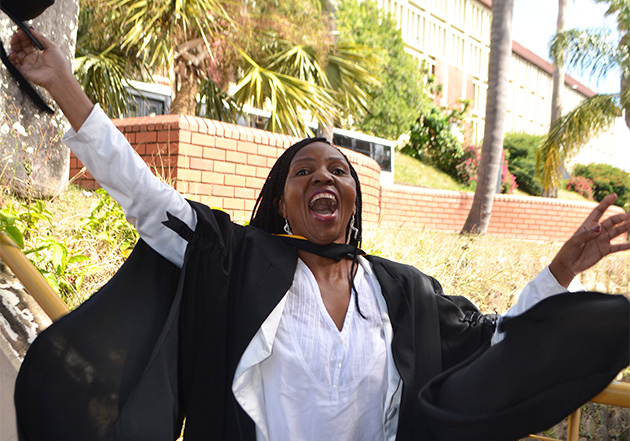 Masters Graduate Conducts Study on UKZN
Even though her journey in achieving her degree was not easy, Ms Nobuhle Mkhize says graduating with a Masters in Administration from the College of Law and Management was worth every effort.
'I've always wanted to be where I am right now. I was aware of the challenges that come with the whole research process but I was so determined to overcome those. What motivates me more now is that I did well during examinations,' said Mkhize.
Mkhize conducted a unique study on the University's Facilities Management Unit. Her study measured the high expectations from both staff and students for quality service delivery by the Unit.
'Quality service provision has become a more prominent issue at UKZN since these various institutions have been functioning under UKZN's policies, regulations and strategies, and since, as suggested by Lavy (2008) and Prior (2011), each institution is a unique entity with different objectives and practices,' said Mkhize.
She said the merger brought a lot of challenges as it meant the centralisation of a number of departments.
She said the Durban campus's service some providers had to be shared among Westville, Howard College and Edgewood, as well as the Medical School.
Mkhize said this poses a challenge to service provision owing to time loss and movement of service providers from one campus to another within a limited space of time.
'Through this study, levels of satisfaction for both staff and students were measured to identify gaps and offer prominent recommendations to address same.
'Costs may be minimised with efficiency gains and priority afforded to close the gaps in the service quality, and contribute to the overall vision and mission of the University in respect of teaching and learning,' said Mkhize.
'As a Masters student, I learnt that hard work and determination pays off "big time". With the knowledge and experience I gained from my Supervisor and from the study itself, I was able to assist other Masters and PhD students with their basic study needs.'
She attributed her success to her supervisor, Dr Given Mutinta. 'He allowed me to own my study but guided me through the whole research process.' Mkhize is continuing with her studies and is in the process of registering for her D Administration degree.
UKZNdaba Online