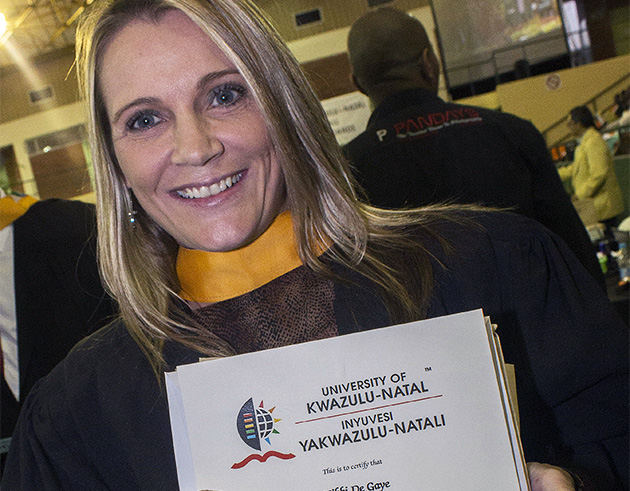 Law Cum Laude Graduate Proves that One is Never Too Old to Pursue Their Dream Career
At the age of 42 most people would not consider starting a new career but for Law cum laude graduate Ms Nikki de Gaye, her dream to become a Lawyer has taken over two decades to achieve but the rewards are worth it.
De Gaye who gave up her job in the gambling industry after 20 years in October 2014 to become an advocate is currently doing her pupillage at the KZN Bar-a sign that pursuing an LLB part-time was the first step towards a successful future.
'I was with Sibaya Casino & Entertainment Kingdom for almost 14 years and completed my degree whilst there. I then resigned to pursue my dream of becoming an Advocate which became a reality in March,' said De Gaye.
Giving up a career that took two decades to build was not an easy choice for De Gaye who started working as a Croupier after completing her matric in 1990 and worked her way up to a Shift Manager. De Gaye has also worked in other casinos in Durban, Cape Town, Amsterdam and Israel.
Carrying on an upward trajectory of success, De Gaye is enjoying the practical training that she is graining from her pupillage as graduating not only with an LLB but graduating cum laude has further ignited her passion for Law.
'I think completing a degree later on in life is, in some respects, easier. I had the maturity to realise that sacrifices would have to be made and that in order for me to reap the maximum benefits from my degree, I would have to put in the hours and work consistently,' he said.
'I am the first person in my family to graduate with a degree and think the fact that I completed my degree at the age of 42 and whilst working full-time shows that it is possible and not that daunting a prospect. Quite a few members of my family are inspired by my achievement and have made enquiries and plans to study further,' said De Gaye.
Thandiwe Jumo