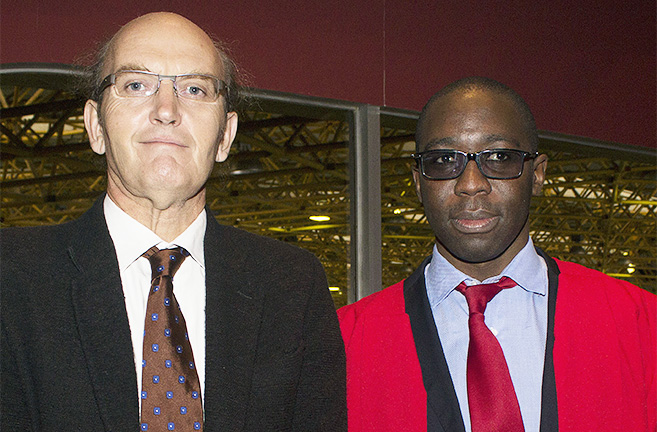 Top Economist Honours Promise to Grandmother and Graduates with a PhD
A great deal of expertise in Economics is required to handle competition cases correctly, says Competition Commission SA's Chief Economist Dr Liberty Mncube, who graduated with a PhD in the field.
While his decision to pursue a PhD was influenced by the need to broaden his economics knowledge, it also honoured a promise he made to his grandmother who raised him that he would finish school and graduate with a PhD.
'When I completed my undergraduate and post graduate studies I did not feel that I had kept the promise sufficiently. Today I am satisfied that I have.'
With a job involving investigations into competition matters and as an author whose articles on competition policy are published in local and international journals, Mncube places a lot of value in education.
'I have always been interested in competition policy and economics, particularly industrial organisation, oligopoly and game theory,' he said. 'In this field of economics, ideas and investigative techniques are constantly evolving and this demands intellectual agility, familiarity with current thinking and ongoing research. It is for this reason I decided to pursue a PhD in this area. Further, I wanted my academic thinking to shape how I approach competition cases.'
Mncube holds an MSc in Economics from the University of York and was a visiting PhD graduate student at the Barcelona Graduate School of Economics where he completed the remaining chapters of his dissertation titled: "Essays on Collusion in South Africa's Grain Industry: Remedies, Overcharges and Cartel Stability", during three-month sabbatical leave.
The study evaluates both the theoretical and empirical issues involved in South Africa's grain industry and aims to improve the understanding of competition policy and its administration, economic understanding which is joined with an appreciation for case specific issues and the South African legal framework.
'My research is a collection of related essays on collusion following various competition policy interventions in the recent past. Consider the potential consumer welfare effects of collusion. The cartels significantly raised prices for several years. These price increases involved staple foods (maize meal and bread as well as wheat flour) resulting in poor consumers being hurt the most. This clearly undermined food security and threatened the livelihoods of the most vulnerable by eroding their already limited purchasing power,' said Mncube.
'The quantification of cartel overcharges is required in both public and private enforcement of competition laws. In public enforcement, cartel overcharges may be quantified as part of the decision by a competition authority what fine to impose. In private enforcement, the quantification of cartel overcharges is the central issue to a damages claim. I hope that those who want to pursue a damages claim will benefit from this study,' he added.
Thandiwe Jumo