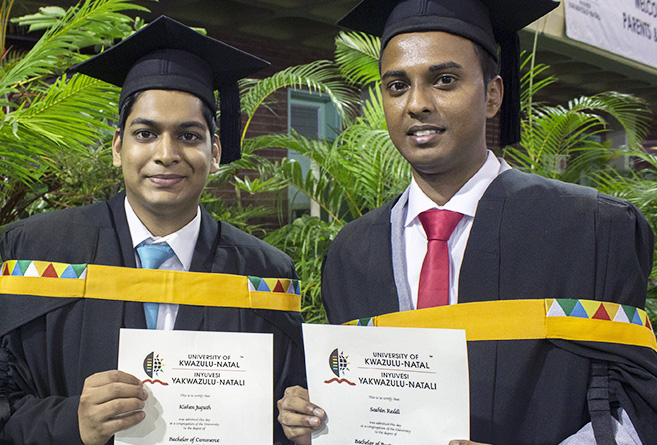 Future Looks Bright for Cum Laude Graduates
College of Law and Management Studies celebrated student excellence in the Discipline of Commerce with four students graduating cum laude.
Mr Sashin Reddi (Bachelor of Business Science), Ms Megan Roux (Bachelor of Commerce honours), and Mr Kishen Juguth and Mr Nicolas Roberts (Bachelor of Commerce).
Reddi's academic highlights include winning the Bloomberg Aptitude Test (BAT) Ambassador South African Challenge resulting in him representing UKZN as an ambassador to the Bloomberg Institute in London in January and participating in the International Scholar laureate Programme for Business in the United States of America during his third year.
Reddi said the four-year degree had equipped him with a wealth of knowledge which would benefit his career in the investment management industry.
'The four years were really beneficial. The knowledge one gains regarding the corporate environment is the main reason I would recommend this degree of study. It provides an excellent foundation complemented by brilliant lecturers. Also, the qualification provides immense scope for employment opportunities.
'I aim to complete the CFA qualification and this degree has provided the foundation which will help me achieve that,' he said.
For Juguth, the achievement is the first step towards realising his ultimate goal of becoming a Chartered Accountant (CA).
'I think the qualification is definitely worthwhile as the degree structure has developed my critical thinking and taught me to take a holistic approach to solving problems. The BCom Accounting degree I have completed allowed me to register for a PGDA this year. This qualification, together with a PGDA, will allow me to write SAICA's Initial Test of Competency and thus attempt to achieve my goal,' said Juguth.
Fellow Bachelor of Commerce graduate, Roberts, said the degree was the key to endless possibilities.
'I am currently doing honours in Accounting and then I plan to do my articles and hopefully get my CA (SA). My undergraduate degree was thus the first vital building block to this ultimate goal,' he said.
Thandiwe Jumo