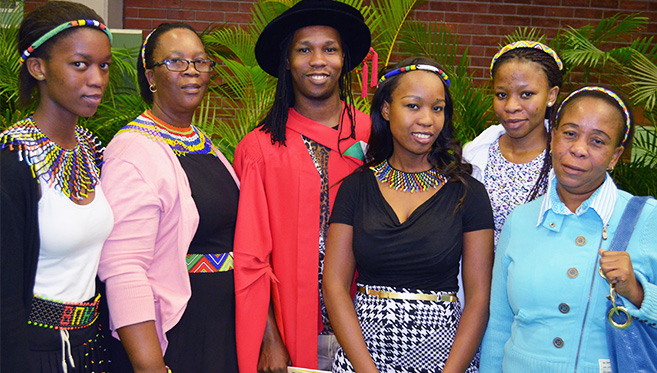 Third Developmental Lecturer in School of Chemistry and Physics Graduates with a PhD
Dr Mzamo Shozi became the third developmental lecturer to graduate with a PhD in the School of Chemistry and Physics when he was capped at a UKZN Graduation ceremony.
Shozi, who specialises in organometallic chemistry, heterogeneous hydrogenation and the preparation and characterization of supported metal oxide catalysts, has worked as a developmental lecturer in the School of Chemistry and Physics since July 2012, after completing his undergraduate and postgraduate degrees at UKZN.
Mzamo's PhD thesis dealt with the conversion of glycerol to value-added products with the aim of finding an alternate route to increasing profitability in biodiesel production plants. According to Shozi, this important topic is current and also falls within the field of renewable energy which affects everyone and is growing every year.
Shozi is a member of the Catalysis Research Group (CRG) in the School, doing research in the field of reactions catalysed in both a homogeneous and heterogeneous medium which is of increasing relevance to the field of chemistry.
Developmental lecturer positions at UKZN occupied by aspiring academics such Shozi have proven to be key to providing graduates who have little or no experience in the field of academia with the opportunity to both further their experience and pursue higher qualifications while gaining practical experience as lecturers and researchers.
This increases the staff complement in the School and provides interested young PhD students with the necessary experience to launch their academic careers.
Shozi was inspired to pursue a career in academia by one of his present day colleagues, Ms Gillian Dawson, who provided him with the opportunity in 2011 to be a chemistry tutor for first year BSc Augmented programme students.
'From that time I really enjoyed teaching and have never looked back,' said Shozi.
Currently, Shozi's teaching role involves lecturing Analytical Chemistry to second and third-year students. In terms of research, he hopes to do more work on the PhD topic, as he believes there is still a great deal to be explored in that area.
He is also involved in a research collaboration that he initiated with a professor at the University of Cape Town's Chemical Engineering discipline in 2013 and is also in another collaboration with a lecturer at Stellenbosch University.
Shozi aims to have as much of an impact as possible on the students he teaches and in his area of research. 'As a young academic, I hope to bring new ideas into my field and enhance the learning experience for students.'
Christine Cuénod