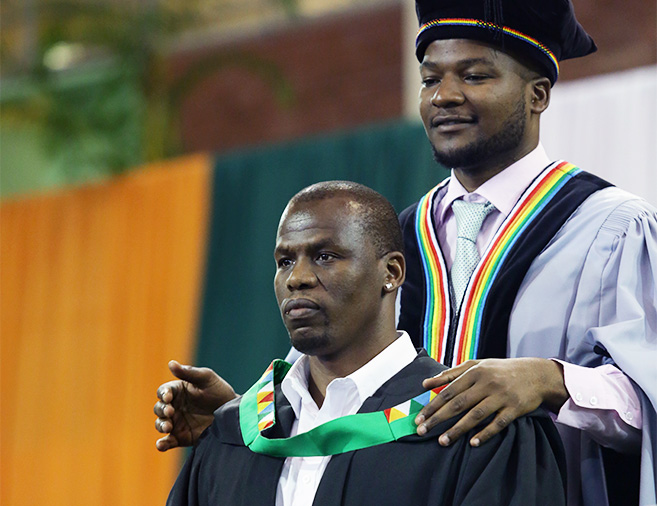 Student Graduates with MSc in Electronic Engineering in a Flash!
Mr Modisa Mosalaosi, who completed his Master of Science in Engineering (Electronic Engineering) degree within a year, was capped at the College of Agriculture, Engineering and Science's Westville Graduation ceremony.
'I feel proud that my efforts turned to fruition in such a short time,' said Mosalaosi.
While describing his experience as wonderful, he admits it was a journey with many ups and downs – but a journey worth the trouble.
His supervisor, Professor Thomas Afullo, the academic leader for Electronic Engineering, was his role model. 'Prof Afullo believes in getting the best out of people and that's very important,' said Mosalaosi.
Mosalaosi's Master's research topic was on Power Line Communications (PLC). 'This is a concept that aims to use our home power line networks for a further purpose, namely, transmitting communication information. With this technology, among others, the most attractive feature is the ability to develop a home local area network (LAN) that runs through the normal power sockets, availing internet around the house without any extra expenditure on infrastructure.
'This network is designed to transport power, hence it tends to be very harsh to data signals. In my work I had to develop noise and channel models used by design engineers for better understanding of this new environment.'
During his Master's studies, Mosalaosi presented two conference papers in conjunction with Afullo – one at the Southern Africa Telecommunication Networks and Applications Conference (SATNAC) in Port Elizabeth, on the dispersive characteristics for broadband indoor power-line communication channels; and the other in Guangzhou, China, on broadband analysis and characterisation of noise for in-door power-line communication channels.
Mosalaosi is currently registered for a PhD in Electronic Engineering.
Prashina Kallideen