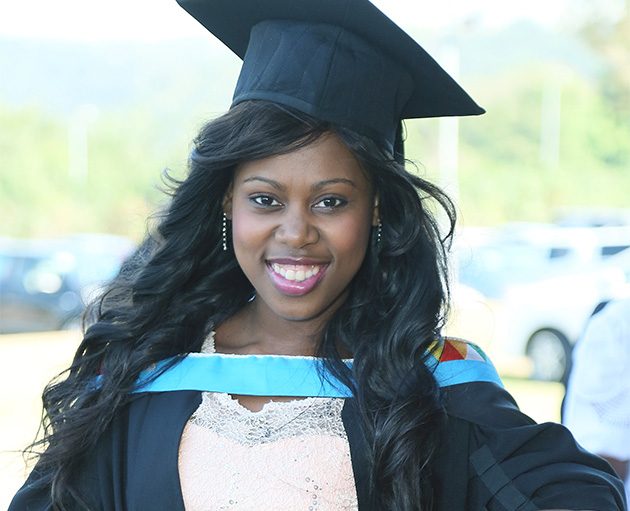 Graduate meets Zulu King during Research on Reed Dance
Meeting King Goodwill Zwelithini was a highlight of research completed by well-known performer, Ms Thabile Buthelezi, for her Applied Ethnomusicology (Honours) degree which was she awarded cum laude at a recent UKZN Graduation ceremony.
Buthelezi was also thrilled to meet her namesake, Inkatha Freedom Party (IFP) President Mangosuthu Buthelezi.
Her research sought to understand the procedures and preparations for the Umkhosi Womhlanga (Reed Dance) ceremony and to engage in further discussions in examining the ritual process of the festival, studying activities performed at different stages of the ceremony while focusing on the Amahubo songs of the Zulu maidens.
'My research draws from the desire I have for preserving and sharing culture,' said Buthelezi. 'I am a passionate performer and performance has been part of my life since 2000. I wanted to incorporate my research with performance hence I chose to focus on the bi-musicality method by Mantle Hood as I got to interact with the people involved in my research, whether by learning their songs or witnessing how they move their bodies during the Umkhosi Womhlanga ceremony,' she said.
'By using a performance approach to seek a better understanding, I not only educated audiences about the dances and songs of the ceremony but continued through a dialogue of expression through my ethnographic film: An Ethnographic Study of Umkhosi Womhlanga in Zululand and Swaziland 2014.'
Buthelezi believes her research will benefit society just as her family benefitted from her research. 'They didn't have an understanding of what Umkhosi Womhlanga is and how significant it is to our culture. But I included my sister who played the role of being a Zulu maiden in my recital and my mother who played a role in being a Swati wife.
'I wanted them to have a secondary experience of what this event means and in this way both my family and those who witnessed/read or heard about my research will understand the Reed Dance ceremony as a dialogue for transmitting culture through performance.'
During her research, she met and interacted with King Goodwill Zwelithini, IFP President Mangosuthu Buthelezi and Chiefs from Swaziland.
'It is important that we take the initiative to promote and preserve our culture by researching, learning these dances and songs, and writing articles that reflect on the stories and truths about our traditions so that the next generation will also have first-hand experience of our culture.'
Her supervisor, Dr Patricia Opondo, said: 'Thabile is every supervisor's dream student as she consistently produces outstanding original work and exceeds all expectations. We look forward to her continued growth as she embarks on her Masters in Applied Ethnomusicology and trust that in a few years she will emerge as a pioneer in performance-based Applied Ethnomusicology.'
Buthelezi is currently working as Marketing and Communications Manager for the KwaZulu-Natal United Music Industry Association (KUMISA) which she feels is a great platform to pursue her dreams to become an advocate for music and promote arts in KwaZulu-Natal and the world.
She is completing her masters degree and plans to continue on to a PhD.
Melissa Mungroo