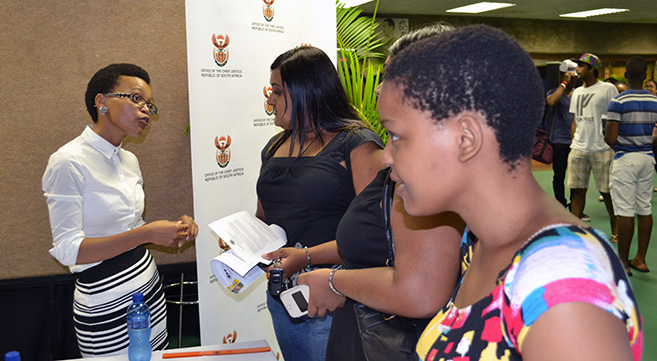 UKZN Alumnus uses Law as a Tool for Social Justice
Law graduate Ms Winnie Ngubane says her recent appointment as a Law Research clerk for Justice Chris Jafta at the Constitutional Court is her contribution to the realisation of social justice.
Ngubane, who graduated with an LLB in 2011, is carving an impressive career for herself.
Ngubane's position as a Research Clerk involves conducting critical legal analysis for cases that come to the Court, she attributes this success to an undergraduate qualification from UKZN which unlocked her potential.
'An LLB degree from UKZN is highly regarded in our profession and it has opened many doors for me. I've always been interested in the relationship between law and politics and how they impact on social and economic development,' says Ngubane.
'During my LLB I realised that just as law was used as an instrument of oppression and grave injustices during apartheid, it can also be used as an instrument to achieve social justice, especially now with constitutionally enshrined human rights,' she added.
That is why she has chosen to pursue a career path in human rights law. She has worked as an intern for public interest law organisation, SECTION 27 and non-profit legal clearing house ProBono.Org as well as a candidate attorney at the Legal Resources Centre, which specialises in strategic public interest litigation.
For Ngubane achieving success also means she has a responsibility to empower others also aiming to attain the same goal. With the experience of what it is like to be a student who is not sure about career options, Ngubane was one of the exhibitors at the recent Law Professions Day held to inform the students about the opportunities available at the Office of the Chief Justice.
Ngubane told students about the Law Clerk programme they could apply for and the fact that an LLB was a gateway into a variety of disciplines.
'A career in law is so diverse and one can branch out into many fields. It is a springboard to many career options whether in the public or private sector and one is not merely limited to practise as an attorney or an advocate,' she said.
Looking to the future, Ngubane plans to take advantage of the Court's scholarship programme to study towards an LLM in Public International Law after which she wants to continue with her work as a public interest litigation attorney and possibly join the bar as a specialist in constitutional litigation.
'Working at the Court has thus far been absolutely rewarding. The judges are very supportive and interested in the professional development of clerks. They provide invaluable mentorship to the clerks and I am very grateful for this once in a life time opportunity. All of this was made possible by my leap of faith to decide to study law at UKZN,' said Ngubane.
Thandiwe Jumo