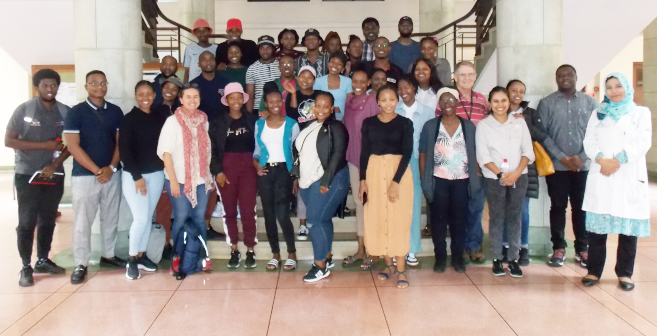 Leading Mycologist Delivers Guest Lecture at UKZN
Professor Anne Pringle, Vilas Distinguished Achievement Professor in the Departments of Botany and Bacteriology at the University of Wisconsin-Madison in the United States, visited UKZN to deliver a guest lecture on invasive mycorrhizal fungi as part of her Fulbright Scholarship at the University of Pretoria's Forestry and Agricultural Biotechnology Institute.
Pringle, who was raised in Southeast Asia and West Africa, completed her studies at the University of Chicago and Duke University. She secured a fellowship at the University of California, joining Harvard University before moving to the University of Wisconsin-Madison. Pringle has given over 100 invited talks all over the world and has received several awards recognising her excellence in teaching and research. A past President of the Mycological Society of America, her work has been featured in publications including The New York Times.
Co-ordinated by an honorary researcher at UKZN and the Institute for Commercial Forestry Research Dr Bernice Bancole, Pringle's presentation gave students and researchers in agriculture, forestry and plant pathology insight into mycorrhizal fungi and their role in enabling the growth of certain plants, and in themselves becoming an invasive epidemic.
'In nature, most plants don't grow alone, they grow with all sorts of fungi, some associated with their roots,' said Pringle.
'It is important to understand the different kinds of mycorrhizal fungi because the kind of plant you are growing associates with different kinds of fungi,' she said. 'There is a broad kind of specificity and it matters to understand an ecosystem or forestry site.'
Pringle described the rise of experiments using growing plants with and without mycorrhizal fungi, with these organisms generally leading to better and larger growth, pointing out that this field of inquiry has not been a focus of research for scientists in southern Africa, despite non-indigenous ectomycorrhizal fungi being introduced from Europe to South Africa to help the growth of pine trees in plantations.
Pringle spoke about global patterns of ectomycorrhizal fungi introductions, with the majority occurring in the southern hemisphere.
'People don't think about these kinds of fungi when they're investigating invasive species.'
Despite the abundance of Earth's biodiversity being microbial, Pringle pointed out that people often do did not address microbes unless they were perceived as being pathogenic. She added that when fungi provided benefits, people did not pay attention to their presence, until rare instances where fungi caused detrimental effects, for example through poisoning.
Pringle discussed invasive mycorrhizal fungi in Colombia, specifically the European Amanita muscaria that has shifted hosts to associate with the country's unique, endemic Q. humboldtii oak trees, as well as with pine and acacia introduced for forestry. She noted that planted forests were correlated with fungal introductions and some were invisible invaders with impacts that had not been addressed yet.
'Organisms are moving and biodiversity is being re-shaped at an unprecedented rate, and one of the grand challenges of our time is to understand that,' she said, pointing out that this included human movement.
She also highlighted the role evolution plays in biodiversity reshaping itself by expounding on the ecological niche of the death cap mushroom and modelling work that has enabled the prediction of the equilibrium that allows it to survive in new environments. Her research team has used genome sequencing and basic biology to understand the natural history and biology of the deadly fungus originating in Europe and now taking root all over the world.
Pringle raised the question of how movements of organisms are stopped practically, pointing out that mycorrhizal fungi continue to be bought and spread through additive products for soil and she described techniques to avoid this, particularly for the planting of trees in cities where techniques such as whole soil transplants were being used.
'Fungal introductions lead to invasions - the spread of mycorrhizal fungi is historic but it is also ongoing, and the mycorrhizal biofertiliser craze is an easy buzzword,' said Pringle. 'There may be viable alternatives and it is time to start the conversation and move beyond plants and animals and disease as all-important and think about biodiversity as a whole.'
A variety of Pringle's presentations are publicly available on ibiology.org
Words and photograph: Christine Cuénod