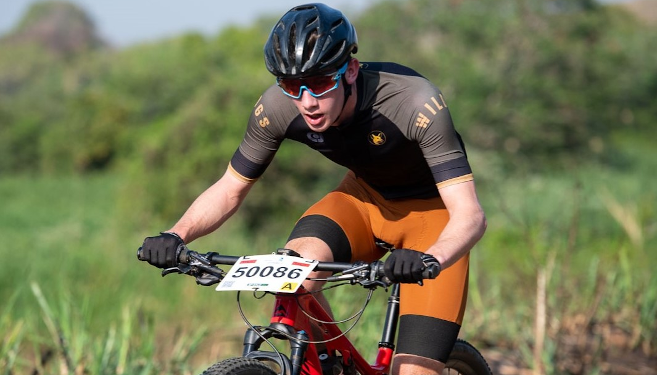 UKZN Student Pedal Powers to Victory
Click here for isiZulu version
Third-year Mechanical Engineering student Mr Brent Yelland won the 40km aQuellé Tour Durban Mountain Bike event - which started and ended at the Cornubia Mall in Umhlanga - in a record time of 1hr 23min.
Commenting on his win, Yelland, second in last year's race, said: 'It feels great. Getting a win proves I can win big races. It was an extreme confidence booster for me.'
Yelland, who has been cycling for more than five years, said his mom and dad inspired him and encouraged his interest in the sport. 'They were avid cyclists and got back into cycling about 5 years ago after taking a break from the sport. We then started going to cycling races and mountain biking trips on the weekends as a family.'
Yelland (20) took part in the 106km Tour Durban Road cycling event the day after his Mountain Bike win describing it as 'a lot of fun'. Placing 20th overall and eighth in his age group he said: 'I tried to attack and form a break many, many times but couldn't get away, so I just finished in the front bunch.'
His other achievements in cycling include: winning the Wartburg and Eston Mountain Bike races as a junior; finishing second as a junior and an Under-23 cyclist in the KwaZulu-Natal Road Cycling Championships; and winning a local criterium road race this year.
A UKZN Prestigious Sports Scholarship recipient, Yelland said his academic plans include completing his Mechanical Engineering degree next year and going on to do postgraduate studies. 'I'm looking to improve and focus on my training to reach my potential as an athlete. I can definitely see myself getting on the podium in some national-level races in the next few years.'
UKZN Manager for Student Health and Sport Mr Mark Bashe was excited about Yelland's achievement. 'We are very happy and proud to see Brent cycling his way to the top and flying the UKZN flag high while inspiring others to follow in his footsteps. We are extremely proud of him as our only high-performance cyclist and look forward to seeing him competing in other races,' added Bashe.
Words: Hlengiwe Khwela
Photograph: Supplied