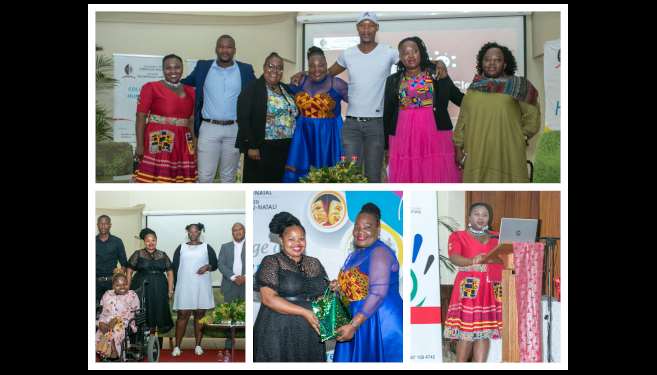 UKZN Hosts Tourism Symposium
Click here for isiZulu version
UKZN's Culture Cluster in the School of Social Sciences hosted a tourism symposium titled: Rethinking Tourism for the Benefit of Culture and Heritage Students and Graduates.
The event consisted of four sessions with delegates presenting on different tourism topics.
UKZN staff involved were Dr Bhekani Nzimande, Dr Mabuyi Gumede, Dr Balungile Zondi, Acting Dean of the School Dr Gabi Mkhize, and Ms Edista Ngubane as well as former students Ms Nokwethemba Vilakazi and Mr Ayanda Shezi.
Government organisations present included the National Youth Development Agency (NYDA); KZN Amafa and Research Institute; Culture, Arts, Tourism, Hospitality and Sport Sector Education and Training Authority (CATHSSETA); South African Museums Association (SAMA), and the KwaZulu-Natal Department of Sport, Arts and Culture (KZN-DSAC).
Other participants were academics Dr Bandile Mkhize, Professor Thandi Nzama of the University of Zululand, and the Chairperson of the Board for the Aloe Lifestyle Hotel and Conference Centre, Mr Sicelo Xulu.
The symposium celebrated Tourism Month allowing students in attendance to tap into culture, heritage, and museum sectors while accessing useful information to benefit their career paths. 'Due to lockdown restrictions accompanied by job losses, the tourism sector was the most affected globally by the COVID-19 pandemic. This has contributed to the country's high unemployment rate; however, this opportunity will assist our final-year students who are seeking employment,' said Gumede.
Mkhize opened the symposium and welcomed participants, including students and stakeholders. She noted the importance of the symposium in contributing to networking and collaboration for the benefit of the students, graduates, academics, and the School at large.
'Our speakers and panelists have been specially handpicked to guide us into these conversations and it is hoped that by the end of the symposium, all stakeholders will be better prepared on how to provide curriculum and training for students that will lead to the growth of our economy and reduce youth unemployment,' said Mkhize.
Government representatives shared information about their respective roles in the tourism sector, including coordination, planning, policy development, service excellence, and capacity building.
Xulu spoke on entrepreneurship highlighting basic requirements when starting a business as well as qualities needed to follow a business plan, offering insight into his business ventures, and encouraging students to start their own businesses. 'It's tough out there. It's important to understand the value chain which could be as simple as providing a company such as a bed and breakfast establishment with lemons,' he added.
Shezi spoke about his experience as an unemployed graduate and his business, A&B Poultry, which is currently supplying three Spar retail stores across the province with eggs as well as his prestigious award for the Lion's Den Business competition for entrepreneurial excellence in his business.
Vilakazi detailed how she turned her beadwork talent into a successful business called Indlovukazi Beads, where she offers lessons both online and in person and sells a variety of beaded African accessories.
Keynote speaker Mkhize focused on the role of government in ensuring there are policies and strategies that can be implemented for tourism, which he considers relevant. He pointed out that 'there hasn't been much change in the dynamics and the basics of tourism remain the same with the solution being that of government providing the right leadership.'
Ngubane spoke on the role of the College Student Academic Services, and how information is channeled through the University. She urged students to note the communiques sent out by the University as there were often opportunities for them.
'Familiarise yourselves by visiting our offices. We also provide services such as counseling and psychotherapy; academic support and career planning; graduate recruitment and part-time work; psychosocial workshops, support groups and forums,' said Ngubane.
Words: Sinoyolo Mahlasela
Photographs: Simon Gazu