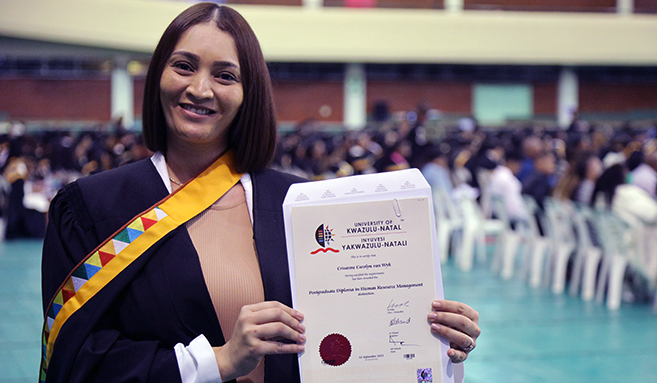 Mother Studies Through COVID-19 Infection to Graduate
COVID-19 took its toll on postgraduate student Ms Crizanne van Wyk but with super-charged support from home and UKZN as well as benefitting from online lectures she graduated - with distinction - earning a Postgraduate Diploma in Human Resource Management.
During her studies van Wyk also had to balance her responsibilities as a babe-in-arms mom with that of career demands as a Human Resources Practitioner at KwaZulu-Natal's Department of Sport, Arts and Culture.
'I got COVID-19 during the "third wave" while pregnant with my second baby. This was a stressful time but having classes online helped me navigate through the challenge,' said van Wyk.
All these difficulties could easily have led to her halting her studies but she persevered with strong support from her husband and UKZN staff.
'Running a home with a husband, a four-year-old son and a six-month-old daughter combined with work and studying was daunting, especially with the "new normal" of online learning. The last semester kicked off the week I gave birth but I managed to liaise with my administrator and lecturers and they provided great support to make sure I did not miss out on the first two weeks,' said van Wyk.
Whilst working and studying from home and recovering from COVID was challenging, she said it opened up opportunities for her to bond with her family.
'I pushed myself beyond every boundary! Even when it meant working at odd hours to ensure that I kept to my deadlines and all my submissions.
'I attended class some nights with my baby right next to me - that's where online learning helped and worked for me,' she said.
'It was an interesting journey that required a lot of discipline, dedication, and diligence. I sometimes doubted I would stay the course but, in the end, it was worth all the hard work and late nights.'
Words: Thandiwe Jumo
Photograph: Abhi Indrarajan