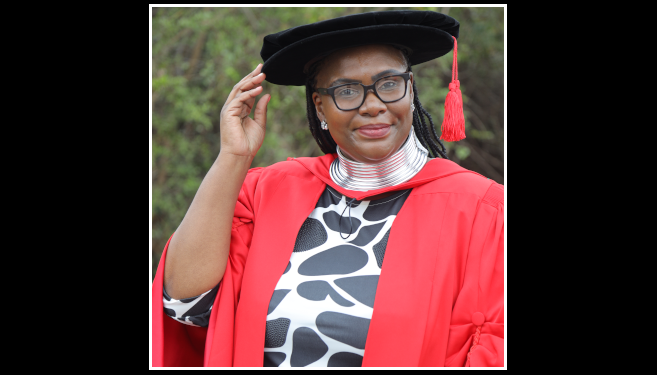 Doctoral Graduate Unmasks Gender Inequality and GBV in the Faith Context
From high school teacher, school counsellor, and education specialist to lay minister, Dr Zama Dlamini graduates with a PhD in Gender and Religion.
She made a disciplinary shift from Media and Cultural Studies to Gender and Religion and completed her PhD in three years despite many family responsibilities.
Currently working as a researcher for the Ujamaa Centre, Dlamini is also the programme coordinator for Public Theology at UKZN's School of Religion, Philosophy and Classics. Her research work focuses on gender-based violence (GBV) in the faith context which is highly topical. Dlamini will present some of her research at the Global Network for Public Theology in Brazil next month (October).
She said the switch from Media and Cultural Studies to Gender and Religion was inspired by the brokenness she encountered in ministry, where married Christian women experienced difficulties within their marriages. Dlamini said they struggle with trauma, depression, stress, and anxiety - and often end up leaving the church without any support.
'The pain of witnessing African women's experiences in marriage influenced by African culture and Christianity was too much to bear. Patriarchy has always been the template used to oppress, harm, and perpetuate human indignity. The lack of programmes and resources promoting relational wellbeing within the churches had not helped abate the challenges,' said Dlamini, who pursued her PhD because of a deep desire to unmask GBV in Christian marriages. She sought to understand the precarious nature of the "unholy trinity" (gender, religion, and culture) in the stories of women who suffer abuse and how toxic biblical teachings/culture normalise and sustain women's oppression.
'I wanted to expose the lived experiences of GBV survivors, where women's bodies are vulnerable to abuse in intimate relationships in which they are abused by their spouses in the context of heterosexual Christian marriages,' she added.
Her research is about GBV in faith spaces, with the aim of unmasking how GBV is a reality not just in the secular spaces, but also how Christian married women survive domestic violence and GBV in their own homes.
This study revealed how gender inequality continues to be pervasively perpetuated religiously and culturally whereby women are faced with inequalities and a myriad of oppressive experiences.
Due to the sensitivity of this study, she encountered quite a few challenges, including difficulty to recruit participants who would be willing to share their experiences. The fact that she began collating data for the research at the peak of COVID-19 made personal contact with participants difficult. She had to use technology to collect data which made it difficult for participants to open up.
'With all those challenges, the research process has been an enlightening, empowering, and healing journey for me at a personal level. I recognised how traumatic the narratives of participants were and it forced me to pace myself differently and take cognisance of my mental and emotional wellness. The support of the University counselling specialist really came in handy,' said Dlamini.
She said the findings of this research study 'will benefit faith leaders and various church communities to rethink and reimagine accompaniments and pastoral care praxis that is survivor informed. Different organisations including corporate entities need to warm up to this conversation and explore indigenous resources that will enable wellness and heal GBV wounds.'
While her PhD journey may have been tough, Dlamini is happy and proud of herself for succeeding. 'Through a very trying season, my PhD became my source of comfort and my greatest motivation. I kept my faith and focused on the goal. It's unbelievable that I have finished. I am elated and thankful to the Almighty.'
She thanked her supervisor, Professor Charlene van der Walt, and family and friends who supported and motivated her, especially her husband and mother who is her 'prayer warrior'.
She plans on disrupting various spaces by creating advocacy around life-denying theologies and cultural traditions that legitimise female oppression. As co-director of Zatho Consulting through which she works with churches, schools, public and private companies in the diversity, equity and inclusion (DEI) space, she is intentional about transforming toxic ideologies.
Words: Lungile Ngubelanga
Photograph: Abhi Indrarajan