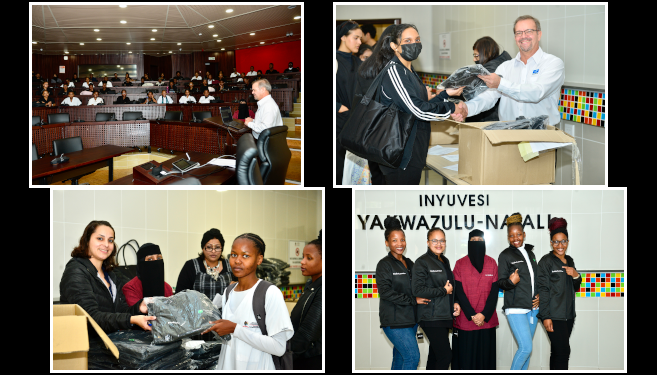 Essilor's Engagement with UKZN Optometry
Click here for isiZulu version
Essilor, an international optical company, visited UKZN Optometry students to introduce the company for possible future collaborations and also gave away gifts.
Mr Peter Jones, Essilor's KwaZulu-Natal regional sales director, held a presentation about the company as a whole to approximately 140 students. The initiative was held at the University's Senate Chamber, Westville campus, with third and final-year students.
Through the visit, Essilor South Africa aimed to celebrate the years of collaboration that exist between UKZN and the company. Students were given "memoirs" (gifts) as a, so said Jones, 'remembrance of the interaction, the importance of collaboration between yourselves as professionals and ourselves as a professional service supplier company.'
In 2021, Essilor International and Luxottica International merged their entities to form EssilorLuxottica as one body-corporation across the world. Commenting on the merger, Jones said: 'The intention was to create a good basic business that can offer a holistic, broad spectrum of products to the optical industry.'
EssilorSA specialises in lenses and instruments, 90% of their lenses are produced locally. Jones highlighted the importance of the relationship between optometrists as professionals and themselves as suppliers in engaging feedback. He said: 'The feedback we get from you and the feedback we give to you is crucially important in the manufacturing and development of lenses and frames as we are moving forward into the future.'
Dr Naimah Ebrahim Khan, School of Health Sciences Optometry academic leader, was grateful to host EssilorSA and for the generous offer to students, especially those in third-year, saying: 'They go to hospitals and meet many patients, for that they need proper uniforms which is quite expensive in addition to all that they need.
EssilorSA has been extremely generous throughout the years with UKZN Optometry, they have come through when we needed funding and equipment, and when we had specific students who had debts, so we are very excited to extend this collaboration'. Every third-year student received a pair of scrubs whilst those in final-year received jackets. The scrubs and jackets were branded with UKZN and Essilor logos.
The initiative and gifts were well received among students. Third-year student, Ms Aparna Ramsookmohan, said: 'It's quite exciting to get another pair of scrubs and I didn't know so much about Essilor before as one of the bigger names but now we got to know about the company and how international they are.'
Mr Pallo Nteke, a final-year student, was happy that he was getting a jacket; while Ms Taitem Wagner, another final-year student said: 'This was a great initiative to give us jackets, it's awesome, we love looking professional and these just add to that.'
Words: Zama Khoza
Photographs: Albert Hirasen