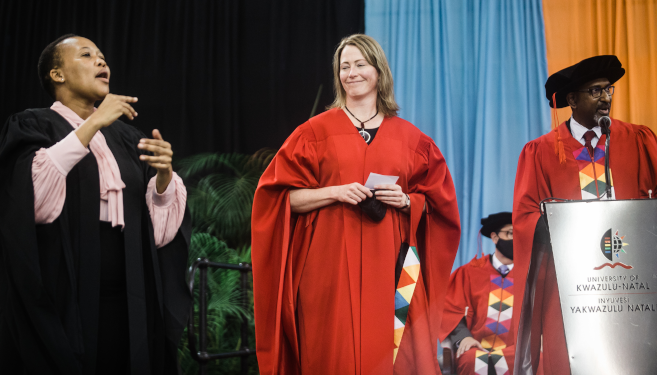 Talkative Silence: UKZN's Sign Language Interpreters and Their Customers
It's Graduation silly season and the sports hall at the University of KwaZulu-Natal is abuzz with glitz and glamour. A sea of gowned graduands face the stage, loved ones grouped in a solid phalanx of pride alongside. As each student takes their turn to kneel before the Chancellor and be capped, the hall erupts in joyous ululation. No sombre ceremony here - the noise is deafening…
Except for one quiet corner onstage. Facing the congregation, Sign Language Interpreter Ms Tsholofelo Segatswi stands neat and petite in a black academic gown, pencil skirt and court shoes. Her colleague Ms Sinethemba Khumalo is in the front row, turned towards her and the academic procession seated onstage. The ladies work in tandem, taking turns to interpret. Eloquently and elegantly their hands speak as the Dean reads out the names and citations. Deaf zoologist Nancy Barker is receiving a PhD, and Segatswi and Khumalo weave their magic.
UKZN's six fulltime South African Sign Language Interpreters (SASLIs) form a tight-knit, motherly team who lean on one another for support. The hours are long, the engagement intense and the service they offer to their customers - UKZN's Deaf students - indispensable. Sign Language interpreting is not a job, it's a calling, says Segatswi. With South African Sign Language (SASL) set to become the country's 12th official language, they are an increasingly integral cog in the communication wheel.
'We have become known as a destination university for Deaf students and since 2016 our numbers have literally doubled year on year,' says Mr Amith Ramballie, Head of UKZN's Disability Support Unit. The Institution currently has 16 Deaf students using its SASLI services, with no student being turned away. But Ramballie worries about sustainability. Ideally interpreters should function in pairs, working for 20 minutes before swapping as the job is mentally and physically taxing. You have to listen to the message, interpret it and physically use your hands, he says. But on a starting salary of R200 000 a year for an interpreter it boils down to funding. 'Sadly, we can't have the number of interpreters that we need to offer the programme that we want.'
Statistics indicate that 4.5% of South Africans are Deaf or hard of hearing. Used by almost one million citizens, SASL is the primary language of South Africa's Deaf community, although historically this community does not form a single group and many dialects exist. Whilst some - usually those who are hard of hearing - might not label themselves as Deaf, others regard deafness as part of their cultural identity rather than a disability, referring to themselves as big D "Deaf". It is this group who are more likely to use a visual language like SASL.
Built on linguistic rules just like any other spoken language, study options are available to learn SASL if not one's mother tongue. The Universities of the Free State, North West, Witwatersrand and the Durban University of Technology (DUT) all offer courses. Content is similar across the institutions and covers the history and development of sign language and Deaf culture, as well as the principles, methods and techniques of communicating with the Deaf in SASL, and practical training. 'Learning Sign Language is difficult,' says SASLI Ms Nokuthula Khumalo. 'When I chose it as a two-year module at DUT it was my first real exposure to Deaf people. It was not easy physically or mentally. You have to learn to use movement. Mentally, it is a second language for your brain. The grammar is unique with subject and verb back to front. So, "What is your name?" is signed as "Your name what?"' Khumalo learnt the alphabet first, then spelling, then sentences and signs, improving through practice and research.
None of UKZN's SASLI team have close family contacts who are Deaf - rather, it was an early fascination with the talkative silence of Deaf communication that lured them into their chosen career. 'My little brother had a Deaf friend who he played soccer with,' remembers Ms Sinethemba Khumalo. 'I was intrigued by how he used his hands to talk to people.' For Ms Londeka Ntshangase, it was watching Deaf people in her community signing to each other that sparked her interest.
SASL interpreters can apply for accreditation through the South African Translators' Institute (SATI) without having completed any formal training in SASL. The process involves a fee and exam in simultaneous interpretation, but is not a prerequisite for employment as the pool of high-level sign language interpreters in South Africa is small. Job opportunities include working in social services, health care, religious institutions, the courts, Parliament, television corporations and Deaf schools. Freelancing is also popular.
Higher Education interpretation is a specialised field. 'Accredited interpreters would battle to hold a candle to ours,' says Dr Ashley Subbiah, manager of UKZN's SASLI services. 'New interpreters take a year to get up to speed.' At UKZN interpretation is primarily academic-related and the extensive number of subjects, fields and dynamics involved makes the level of engagement intense. The use of different words that share a similar sign in the same sentence can also be confusing (try sign social, socialising and sociology all at once!) 'The challenge that we have is that SASL is entering a new era,' Ms Nokuthula Khumalo explains. 'The Deaf community is continually integrating new words. There are lots of signs and they grow all the time. At University, there is a sign language gap when it comes to course content. We use finger spelling for names and when we don't know a word. And we sit with our students and create "code" signs for technical terms and to avoid spelling the word.' Currently, UKZN's SASLIs are involved in an ongoing project to build an online "sign-bank" whereby academic terminology developed and agreed to by students and interpreters can be stored, accessed and shared by all.
Ms Philile Shezi is one of three Deaf Bachelor of Education students at UKZN. Braided hair neatly wound up in a bun, a whimsical fringe tickling her forehead, she sits quietly on the couch, hands raised before her. They start dancing as she signs her name. 'I was born Deaf,' she says. 'I started to be exposed to learning sign language at school because my family could not communicate with me using SASL. It was quite challenging to learn the language, but having supportive friends made things better.' Shezi initially attended a mainstream school but found it hard because she could not read. Her family took her to KwaVulindlebe School for the Deaf and then to KwaTimba School for the Deaf. Her sister helped her with her university application.
Ms Nonkazimulo Lembede looks like any other student, dressed in ubiquitous blue jeans and t-shirt. Also, an undergraduate student, she is enrolled for a Bachelor of Social Science degree. Her face alights with expression as her hands start to speak: 'I was born hearing and later became Deaf,' she explains, a shy smile dimpling her cheeks. 'I was enrolled at a mainstream school but I don't recall much about my schooling until I moved to a Deaf school and learnt sign language. That is when I started learning about Deaf culture and other Deaf related matters.' Lembede's support structure includes an interpreter, note-taker and her sister who is also a student on the same campus. This has made blending into an academic environment easier.
Each SASL interpreter at UKZN is assigned two students. Their job is to interpret every class that their students attend - a challenge that makes the average day extend long past normal working hours and involve intense preparation of lecture content. 'You cannot go to a lecture unprepared,' says Segatswi. 'You have to render the message faithfully.' The relationship between interpreter and student is necessarily close. 'Of course, a bond between you and your student is inevitable,' says Khumalo. 'You keep the same student throughout their degree so you need to build mutual understanding and respect. The student gets used to you and your style of interpreting.' Does this close bond lead to a blurring of lines between professional and personal? 'At first, you do get drawn in personally,' she admits. 'But you learn not to overextend yourself, you learn to draw a line. You have to.'
Shezi sits in the front row of a full lecture theatre. Her assigned interpreter, Sinethemba Khumalo, sits facing her a couple of metres away, next to the lecturer so that Shezi can watch her hands, the lecturer and the screen projector all at once. Next to her sits her "note-taker", a paid assistant who takes notes on her behalf, which will then be used to debrief with afterwards. Deaf students on the government's NSFAS student-funding scheme are given an allowance for a note-taker, who can be anyone from a postgraduate student needing extra income to a handy family member.
Just as the COVID-19 pandemic and national lockdown affected mainstream students and the way universities operate, so too has it brought major changes to the relationship between SASL interpreters and their Deaf charges. Online lectures have proven both a blessing and a bane. Prior to virtual instruction interpreters had minimal access to materials before a lecture. Now they are added as teachers to UKZN's online learning management system so that they can see all learning materials at any time. Recorded lectures such as PowerPoint presentations with audio are encoded with SASL using a screen recording software. For live online lectures, Deaf students can use the Zoom gallery view feature, which displays a split screen of content, lecturer and interpreter simultaneously.
Shezi prefers online lectures because of the flexibility they bring in terms of time management, while Lembede says she is happy as she is shy and doesn't like crowded spaces. But SASLI Nokuthula Khumalo cautions that the online world has its drawbacks. 'With Deaf students their needs evolve, but with online classes there is no face-to-face debriefing.' And while Zoom makes it easy to accommodate students it is draining on the interpreters, who have to keep listening, interpreting and signing for up to two hours without a break (the industry norm is 20 minutes). Moreover, the universal tendency to keep one's video off when listening to an online lecture means that SASLIs can't tell if their student is staying focused. 'If the student doesn't take the initiative to use the chat facility, you are unable to interact with them. You just have to go on and on and on ….'
'SASL interpreting is not a job; it is a commitment,' says Subbiah. 'Sign language is always a one-to-one service. The team will never tell you how stretched they are. They do the work in the background because they signed up for it and are passionate about it. These interpreters are the real unsung heroes.'
With President Cyril Ramaphosa's Cabinet approving the Constitutional Eighteenth Amendment Bill for public comment on 25 May 2022, SASL is set to become South Africa's 12th official language. 'More and more Deaf students are going to enrol at universities,' says Subbiah. 'The need for SASLIs is only going to increase.'
So, what are the highs and the lows of this silent profession? Balanced against the long hours, preparation and intense concentration are rich rewards: the skilled magic of communication; interesting academic subject matter; exposure to new dialects from Deaf students who come from different schools; witnessing an overwhelmed newcomer blossom into an independent final year student; encouraging hearing classmates to interact with their Deaf peers. And absolutely best of all? Seeing your student graduate, UKZN's SASLIs agree.
At UKZN's Graduation ceremony, Deaf graduate Nancy Barker stands tall and erect, centre stage. She cuts a dashing figure in her billowing red gown, academic hood draped over her arm. This is the proudest day in Barker's life, the culmination of years of focus and determination. Dr Barker receives her PhD for work done tracking the movement patterns of lions and spotted hyenas in Namibia and Botswana. As her citation is read out she focuses on Segatswi, whose hands weave through the air in constant mesmeric motion. Barker watches - and listens - intently.
Words: Sally Frost
Photograph: Supplied