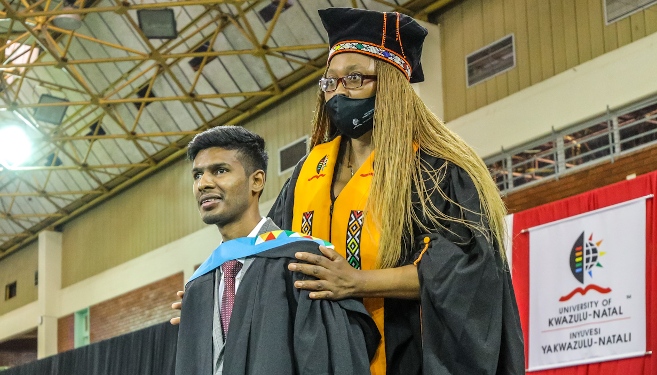 Forensic Criminologist in the Making
Visual impairment has not stopped Mr Shivay Chetty from pursuing his dream of becoming a criminologist.
Chetty who graduated with a Bachelor of Social Science degree majoring in Psychology and Criminology and Forensic Studies from UKZN, was born with Retinitis pigmentosa - a disorder that causes progressive loss of vision.
Throughout his tertiary studies, Chetty functioned with only 10% vision and made his way to lectures with the use of a cane and help from his peers as well as staff from the Disability Support Unit (DSU). He recalled his very first day on campus: 'I struggled to find my way to lecture venues. I got lost a lot but would always find my way.' He added that he does not regard his disability as a disadvantage, 'An eyesight problem isn't the end of the world.'
His advice to other students facing similar challenges is, 'Don't think that you can't make it in life. Look at the world differently and think of how your disability can be of benefit to you.'
Chetty said his parents and sister are his source of strength. They encouraged him to continue with his studies, motivating him to enrol for an honours degree.
He is passionate about criminology and hopes to work with the police in the field of forensic criminology.
Words: Sejal Desai
Photograph: Abhi Indrarajan