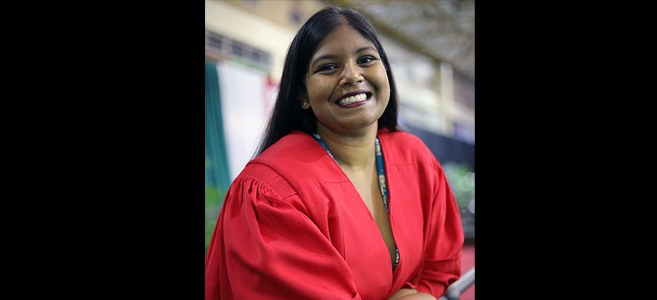 Dysphagia Therapist Graduates with PhD in Speech-Language Therapy
Research by a doctoral candidate explored the nature of clinical reasoning in dysphagia (swallowing) rehabilitation with a specific focus on service provision in low-middle income context (LMIC) populations, including those in South Africa.
The work was done by 26-year-old Dr Thiani Pillay, who graduated with a PhD in Speech-Language Therapy.
Said Pillay: 'My study explored and augmented clinical decision-making models within service delivery to allow for a more holistic consideration of contextual realities within dysphagia rehabilitation.'
According to Pillay, the approach is novel as only a few other studies have adopted clinical reasoning in dysphagia rehabilitation within LMICs in this manner.
She says delays due to COVID-19 often slowed her down which was disheartening but, through the use of online platforms and an incredible support system, she was able to complete her studies and research.
'I am incredibly grateful for the opportunity I had to pursue my PhD and add to the body of research on how to best serve LMIC populations,' said Pillay. 'My future aspirations are to continue my research in this critical area of service delivery to allow for more accessible models of healthcare to develop appropriately to serve LMIC communities, including those such in South Africa,' she added.
Pillay thoroughly enjoyed her study journey. 'It has been a life-changing experience. I am very grateful for the assistance and guidance I received from the Speech Therapy Department at UKZN and in particular from my incredible supervisor Professor Mershen Pillay who mentored me the entire way and made me a better researcher and a better person.'
Pillay, who attained her BSc in Speech-Language Pathology at the University of Cape Town in 2017, currently works in private practice in the area of acute care with a special interest in dysphagia.
She enjoys spending time with her family, friends and taking her dogs for walks.
Words: Nombuso Dlamini
Photograph: Abhi Indrarajan