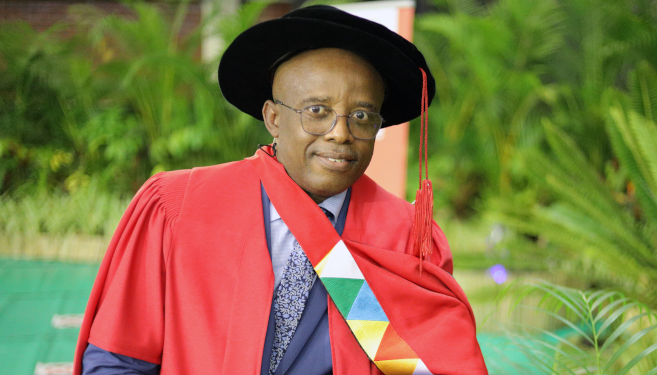 PhD for Eastern Cape Department of Health Physician
Health Promotion (HP) was the research focus of a doctoral study by Dr Herbert Melariri of the Eastern Cape Department of Health.
Melariri graduated with a PhD in Public Health for his work titled: Evaluation of Health Promotion Roles and Services Offered by Healthcare Workers in the Nelson Mandela Bay Municipality of the Eastern Cape, South Africa.
'I feel very fulfilled as I am now empowered, especially from the research point of view, to make more positive contributions to enhance the clinical outcomes in the health sector,' said Melariri.
'I hope to re-energise these pivotal but neglected fields of health promotion and disease prevention to make South Africa a model of excellence. I plan to achieve this through practice, landmark research, mentoring and community building.'
Supervised by Professor Moses Chimbari, Melariri's study identified HP-measuring indicators, enablers, and hindrances for healthcare workers at various healthcare levels in South Africa. His investigations also discovered that inadequate HP knowledge among healthcare workers, lack of coordinated HP training and the operational strategy used in healthcare facilities were responsible for negatively influencing health outcomes.
Furthermore, the study showed that behavioural changes of healthcare workers' patients, structural reorganisation and reprioritisation in healthcare systems were vital for enhancing health outcomes.
'Following the findings of my doctoral studies, I have focused on the United Nations Sustainable Development Goals in addressing several preventable Ear, Nose, and Throat and Ophthalmology (eye) diseases within the Nelson Mandela Bay Municipality. Ultimately, we aim to build sustainable community-based health promotion and disease prevention capacities to complement existing biomedical care,' said Melariri.
In his study, the level of involvement of healthcare workers in health promotion and disease prevention was quantified and compared across all levels of healthcare delivery in the public sector for the first time. 'As at graduation time, I have had all five results chapters of my thesis either published or in press. Four out of the five are in Q1 journals and one in a Q2 journal,' said Melariri.
'As a medical practitioner in the South African public health system, I note that we are regularly faced with large numbers of patients in dire need of care at all levels. It is worse at the tertiary levels where there are patients whose health needs should have been addressed at the primary and secondary levels but this is not happening because at those levels there is a struggle to cope with the volumes of sufferers,' he said. 'This stimulated my interest to explore measures that will empower healthcare workers and at the same time equip our communities and patients to positively take control of their health. Also, findings from the study will equip our stakeholders and policymakers with validated research-based evidence needed for informed decision-making.'
Melariri received his undergraduate medical training at the University of Port Harcourt in Nigeria, and his postgraduate training in general surgery at the University of Cape Town. He holds a Master of Public Health degree from the University of Roehampton in London and a certificate in Global Health from Harvard University in the United States.
He is married to an associate professor and faculty member at the Nelson Mandela University in Gqeberha (Port Elizabeth) Ms Paula Melariri and they have three children.
Words: Nombuso Dlamini
Photograph: Abhi Indrarajan