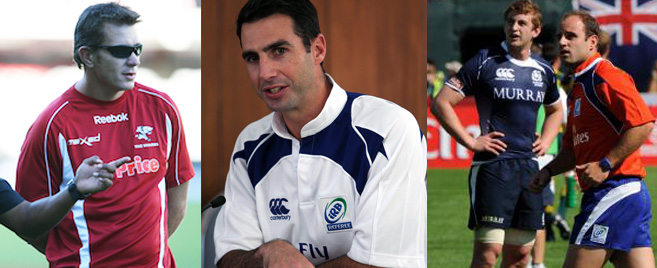 UKZN Alumnus Captain of Legends Rugby Ream
UKZN alumnus Ryan Strudwick has been re-appointed as captain of the South African Legends rugby team.
Strudwick, who returned to his alma mater as forwards coach during the 2014 FNB Varsity Shield campaign, will lead the SA Legends in the annual World Rugby Classic in Bermuda. The Legends will compete against the Classic Lions as well as the national veterans teams of New Zealand, Italy, United States, France and Argentina for the coveted Bermuda title.
Strudwick played for University of Natal teams from 1992 to 1996, when he graduated with a B Agric Mgt. He then went on to play professionally for the Sharks and London Irish.
Meanwhile, UKZN alumnus Craig Joubert and Stuart Berry have been appointed by the International Rugby Board as match officials for the November internationals in the northern hemisphere.
Berry will take charge of the Canada v Namibia match in Colwyn Bay, and will officiate as assistant referee for Scotlands Murrayfield clash with New Zealand and the France v Argentina match in the Stade de France.
Joubert will control proceedings in the historic USA v All Blacks match in Chicago as well as Wales v Australia in Cardiff and Italy's Test match against Argentina in Genoa, and will then return to the Millennium Stadium as assistant referee for Wales encounter with New Zealand.
Good luck to our old boys!
Mark Schulze