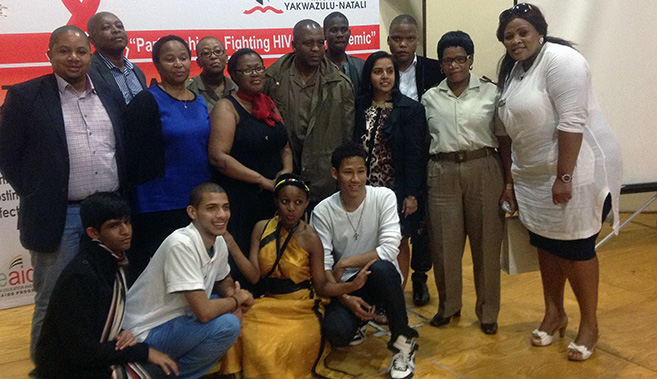 Right to Respect Campaign and a Celebration of Women of Character, Courage and Commitment
The Howard College Campus HIV and AIDS Support Unit and Campus Health Clinic hosted a reproductive health education and advocacy programme in celebration of Women's Month at the Howard College Theatre in August 2014.
The main objective of the Right to Respect Awareness Campaign is to create greater awareness of sexual reproductive health rights.
In his opening address Dr Sibusiso Chalufu, the Executive Director: Student Services expressed how he was alarmed by the nature and number of brutal incidents being committed against women. Citing the case of a woman who was raped in the Magistrate Court offices by a man who refused to use a condom, he asked the question: 'What kind of society are we living in where women have to negotiate how they are violated?'
Further citing the case of a young woman who was murdered in Inanda, Durban by an ex-fiancé, he questioned the kind of society where women are murdered for their choices in life. He highlighted the fact that it was for that reason that programmes such as the Right to Respect Campaign are important as they not only encourage responsibility and mutual respect in relationships, but also promote sexual rights and gender equality.
Whilst appreciative of initiatives such as Men's Forum, Men in Responsibility and others, Dr Chalufu argued that more urgent interventions aimed at building a critical mass of male students and staff who are positive social agents, were required.
Anthropologist and Senior Lecturer within the School of Social Sciences, Dr Maheshvari Naidu delivered the keynote address. Naidu's topic centred on "Getting behind the (Fore) skin, Know yourself, Respect Yourself". Her address took on a metaphoric standpoint with emphasis being placed on the nature of human beings and their interpretations of identity markers in line with racial, sexual and gender differences and feminism.
Borrowing Jacques Derrida's theory of difference, Naidu pointed out, 'It helps us see that sexuality and sexual orientations are much more complex than what we may want to pigeon-hole and judge it to be. Adopting this view of delaying the assumed meaning, and "looking beyond the foreskin" helps us come a little closer to the idea and behaviour that dis-respect based on judgment and intolerance doesn't make much sense.'
According to Dr Naidu, 'Engaging in transactional sex for the consumerist Gucci bag and holiday abroad or giving in to sex just because you do not wish to offend or lose the partner or giving in to the occasional condom-less sex, because he promises to withdraw in time makes the women complicit to certain masculine sexual scripts. It turns us, the signifiers, into how and what signification the men give us, so knowing yourself is the ultimate respect you can give yourself' (UKZNDABAonline: Volume2¦Issue 46).
Mrs Nonhlanhla Khanyile of the Support Worldwide Organisation advised students against substance abuse, multiple partners and the dangers and consequences of having unprotected sex. She showcased sexually transmitted infection images to sensitise the audience to the impact of sexually transmitted diseases on the body.
In his message of support, Mr Nduduzo Zwane, Deputy President of Howard College SRC encouraged women to take leadership roles to be in better positions to fight the scourge of abuse in various levels.
Student Health and Sport Manager Mr Mark Bashe, outlined the purpose of the day and in his closing remarks emphasised the importance of the event.
Edutainment was provided by first year Anthropology students (The Anthros) a comedy sketch in which they enacted and parodied stereotypical identity markers, or so called "differences". Peer educators from the UKZN HIV and AIDS Unit entertained the audience with music and a fashion show. One of the highlights of the event was a stellar performance by the winners of the 2014 Clash of the Choirs SA team.
Howard College Campus Health Clinic nurses offered health screening services (cholesterol, blood pressure and sugar level tests) as well as calculations of Body Mass Index (BMI)) outside the venue.
The event was well attended by students, staff and external stakeholders such as DramAidE, Marie Stopes Family Planning Clinic, the Advice Desk for Abused Women and official Westville Prison representatives.
- UKZNdaba Online