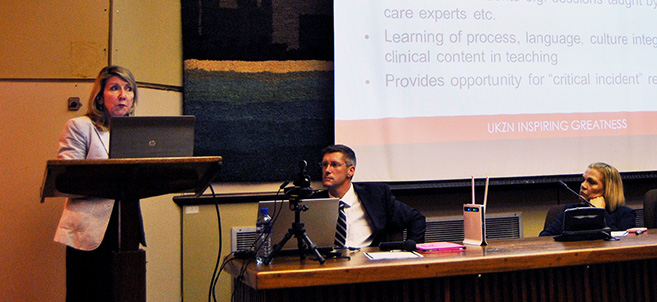 Visual Learning Project Enhances Health Sciences Teaching and Learning
The College of Health Sciences' (CHS) Teaching and Learning Office recently held a Visual Learning Colloquium which highlighted the success and opportunities its staff and students have experienced in pioneering UKZN's visual learning technology.
This cutting-edge technology aims to achieve a number of goals in the University's teaching and learning space, in particular, by providing a mechanism to stream lectures live and record lectures for later on-demand viewing by students.
An ongoing challenge in the College is the increase in class sizes, and lecturing of students doing experiential training in hospitals in both urban and rural areas. The visual learning project means that an interactive classroom can be set up anywhere with live lecture streaming. Students can ask the lecturer questions on this platform and, in addition, respond to questions, surveys and polls from their seats in the lecture room.
The colloquium was an opportunity to reflect on the pilot project from the perspective of both staff and students. It is expected that feedback from the various disciplines in the College will assist the Teaching and Learning Office in maximising visual learning opportunities.
Deputy Vice-Chancellor and Head of CHS Professor Rob Slotow welcomed the project for its innovate approach to teaching and learning, observing that because it tailors the technological experience to the individual student, it caters for students with different competencies and abilities simultaneously.
Students can engage in topics they were most intrigued with, and because students are in different placements with different patients, the project enables them to learn from each other's experiences in the form of peer-to-peer learning.
Slotow said: 'The College is excited by this technological advancement and its potential for teaching and learning. It is a work in progress, and a way to address some of the current challenges in the College.'
Participants heard from on and off campus-based staff and students who shared their experiences of teaching and learning since the inception of the project. While visual learning is a key performance area for teaching staff, the students also reported on their positive uptake of eLearning at UKZN.
UKZN's Chief Information Officer, Mr Richard Jansen, said it was difficult to predict the future but eLearning has a definite impact on university teaching and learning globally. He said: 'It's no longer about the content you produce but how you deliver it. How do students ingest it?' Jansen said the College can be proud to be at the forefront of global technological advancements in teaching and learning.
Jansen's office has been trialling a number of different features specific to the University's needs. These include phasing in new features to the students' Proline tablets and kitting lecture venues with state-of-the-art technology.
Among the academics who presented was Dr Margaret Matthews who reflected on the benefits of visual learning technologies in the School of Clinical Medicine's Clinical Skills Laboratory when teaching undergraduate Medical students. Matthews said it was one way for students to learn to co-construct their education.
The College has employed UKZN's visual learning expert, Ms Lyn Whiteley, to support and assist lecturers in adopting the use of technology when teaching. The User Adoption and Training Specialist can be reached on 031 260 4103 and via email on whiteleyl@ukzn.ac.za.
Lunga Memela