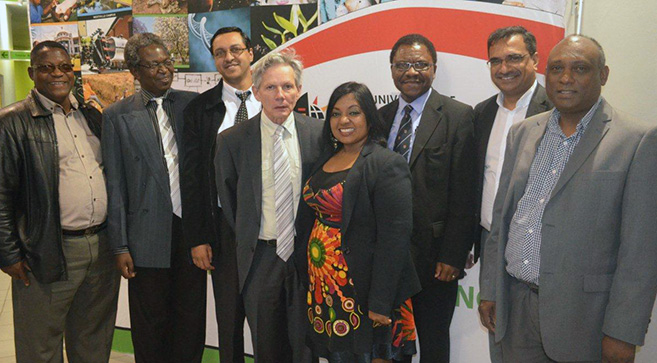 UKZN Celebrates Africa Engineering Week
UKZN recently joined the rest of the continent in celebrating Africa Engineering Week.
This week-long focus on engineering, which ran from 1-5 September, is a UNESCO initiative which was rolled out in conjunction with various strategic partners.
The initiative aims to educate the youth and general public about the engineering profession through strategic outreach activities in each country in Africa. Activities included educational workshops, public awareness events, mentoring activities and university events.
'The aim of these events was to show how engineers are key players in the solutions to important continental challenges, such as the provision of clean drinking water, sustainable housing, and issues around climate change,' said UNESCO representative and UKZN keynote speaker Ms Rovani Sigamoney.
As part of the University's contribution, the College of Agriculture, Engineering and Science organised two main activities. Firstly, a schools' outreach programme aimed at Grade 9 learners from low quintile schools was run in conjunction with eThekwini Municipality. This initiative saw UKZN postgraduate students deliver career talks and science shows, while the municipality provided science kits for the schools and screened a DVD showcasing the "Life of an Engineer". The programme proved very successful, thanks to support received from the Department of Education, and sponsorship provided by the Willowton Group and Sun International.
'The UKZN teams were excellent and the kids loved their experiments and were keen for more,' said Ms Veena Naidoo, Coordinator of Support Services in the office of the Deputy City Mayor.
UKZN's other contribution to Africa Engineering Week was the hosting of a public lecture and awards evening at its state-of-the-art School of Engineering building on the Howard College campus. Guest speakers were Mr Adrian Peters and Sigamoney.
Peters, a registered professional Civil Engineer, currently holds the position of Chief Strategy Officer of eThekwini Municipality. In addition, he is Vice-President of the Engineering Council of South Africa (ECSA). Peters provided an interesting outline of the history and mandate of the engineering profession and ECSA in South Africa. He also spoke about the Council's education function and the accreditation of engineering programmes, as well as ECSA's role in regulating professional conduct and setting standards. 'The competence of engineering practitioners is essential in protecting the public interest,' said Peters.
Sigamoney, a Chemical and Environmental Engineer who is passionate about encouraging more women and youth to pursue careers in engineering, represented UNESCO as the organisation's programme specialist. Sigamoney spoke about UNESCO's role in stimulating future African Engineers. 'Currently South Africa has one engineer per 3 166 of the population. This is behind countries like Brazil (227), the United Kingdom (311), Australia (455) and Chile (681). There is a need for greater awareness by the public and policymakers of the need for and importance of engineering,' she said.
The evening culminated in the presentation of a certificate of excellence to electrical engineering doyen, Professor Antony Britten (Pr Eng, FSAIEE). Presenting the award, Academic Leader for Electronic, Electrical and Computer Engineering at UKZN, Professor Thomas Afullo, said the award from the University of KwaZulu-Natal, School of Engineering, and the Eskom Centre of Excellence in HVDC Engineering recognised Britten's "career of excellent service" as Technical Director, Adjunct Professor and Specialist Engineer to UKZN.
A series of glowing citations had Professor Britten quipping: 'I hardly recognise myself!' He went on to say he hoped to be able to continue contributing to the research being done by the Eskom Centre of Excellence in HVDC Engineering on UKZN's Westville campus.
Sally Frost