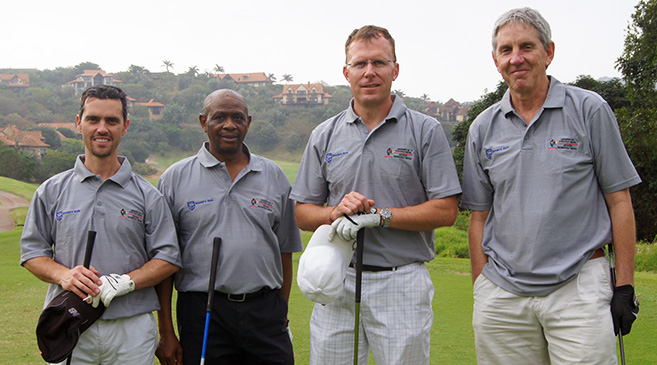 UKZN's Golf Day Just Keeps on Getting Better!
UKZN'S annual Golf Day is a significant event on the Institution's calendar, bringing together the business sector, donors, alumni, friends and members of the University's internal community.
But over and above that the event raises funds for bursaries for students from disadvantaged backgrounds who have excelled academically and who do not receive any other financial support in the form of bursaries or grants.
This year's 11th annual Golf Day, organised by UKZN's Corporate Relations Division, was held at the plush Zimbali Country Club where eight high-achieving students from various academic disciplines received bursary funding of R10 000 each.
Standard Bank, the main sponsor for five consecutive years, pledged R60 000 this year. The bank's Mr Toy Mzimela said: 'Standard Bank's involvement with this initiative is now in its fifth year. We strongly believe that the cornerstone of a proud and economically active society is built on a foundation of education.
'There has to be a systematic process of making sure that we are producing people with maths and literacy skills and that universities are producing the right talent. The fact that this charity event supports students who excel and who come from disadvantaged backgrounds makes us as a bank a proud lead sponsor,' said Mzimela.
Said tournament organiser Ms Shakila Thakurpersad: 'The support every year is overwhelming and the golf day just gets better and better while there has been an increase in smaller sponsors supporting our bursary fund programme.'
Other sponsors included: DALRO, DBU Cleaning Services, Shepstone & Wylie, The Upper Cafeteria, Magic Pan Caterers, CHC Caterers, Investec Bank, Eduloan, Nedbank, Focus Project Management, Tsogo Sun and PricewaterhouseCoopers,
UKZN's Executive Director of Corporate Relations, Mr Lesiba Seshoka, acknowledged the sponsors for their contributions and commitment to the University and thanked golfers teeing off on the day. 'Without the sponsors a golf day like this would not be possible.'
Seshoka congratulated the bursary recipients and wished them well in their studies.
- Shakila Thakurpersad