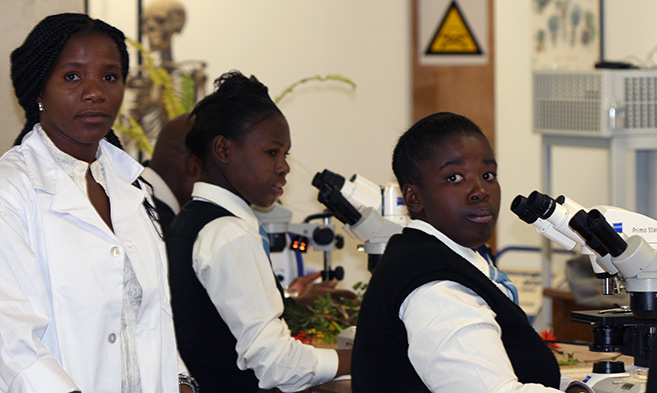 Learners Get Glimpse of UKZN Laboratories
The problem is not the problem; the problem is your attitude about the problem, says Life Sciences Lecturer, Dr Taro Mwabvu, quoting esteemed Austrian psychiatrist, neurologist and Holocaust survivor, Viktor E. Frankl.
With this philosophy in mind, and with the assistance of former and current students, Mwabvu organised a visit to UKZN's Life Sciences laboratories for Thembuzulu Secondary School Grade 11 learners. The school is a low quintile school situated outside Umzinto.
'I decided to approach some rural schools in KwaZulu-Natal to see how I can help,' said Mwabvu. 'Thembuzulu Secondary School is the first to benefit.'
Mwabvu has also "adopted" the school's Grade 12 Life Sciences class to assist in the teaching of concepts, such as evolution, which he said teachers found challenging.
Earlier in the year, the school had invited him to talk to their students on careers. 'I noticed that there was no laboratory at the school,' said Mwabvu. 'After speaking to the Principal I invited their Life Sciences class to visit UKZN's School of Life Science to get experience in a laboratory.
'The Grade 11 class benefited by learning microscopy skills and the importance in science of making - and how to make - accurate observations as well as collect and record data. The learners were seeing our new microscopes and using microscopes for the first time.'
The class was accompanied by their Teacher, Ms Nonkululeko Mkhize, a former UKZN student.
Third year Life Sciences student, Mr Ntokozo Sishi, who is mentored by Mwabvu, gave a short presentation on his rural background, life at university and his goals. Sishi said: 'You can also get here if it is your goal. I saw a microscope for the first time when I arrived at UKZN – so anything is possible with the right attitude.'
- Sally Frost