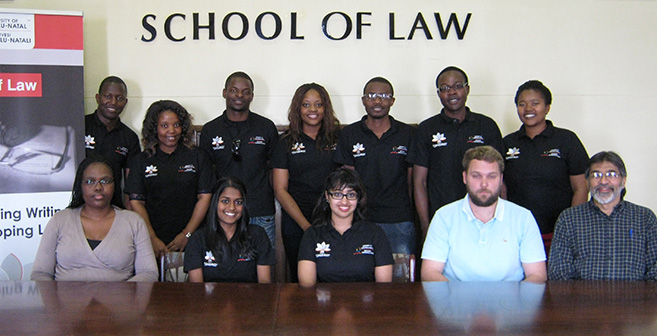 UKZN Student Law Review hosts Training Workshop for its Editors
The UKZN Student Law Review (SLR) hosted a highly successful training workshop for its editors and reviewers from both the Howard College and Pietermaritzburg campuses as well as members of the SLR Academic Advisory Board.
Board members included the SLR Managing Editor, Professor Yousuf Vawda; the Dean and Head of the School of Law, Professor Managay Reddi; Professor Shannon Hoctor, Advocate Devina Perumal, Professor Nomthandazo Ntlama and Mr Chris Gevers as well as staff members Professor Ed Couzens and Mr Norman Raphulu.
The aim of the workshop was to train the editors and reviewers in the execution of their various duties on the SLR which was launched last year at two colourful ceremonies in Durban and Pietermaritzburg and has to date published its inaugural issue online while it is currently preparing the second issue for publication in September.
Hoctor, the current Editor-in-Chief of the South African Journal of Criminal Justice and Assistant Editor of the Obiter, addressed the workshop on the tasks involved in and skills required for the editing and running an academic journal.
Couzens, who is actively engaged in research in Environmental Law, spoke about the importance of having a consistently formatted journal as well as related presentation issues.
Gevers, whose research focuses on International Law, addressed the gathering on aspects involved in running a student law journal, giving comparative insights on how law schools in the United States ran their student law journals. He submitted a number of important suggestions on how to inspire students to write academic papers and how to nurture writing while identifying inspiring and nurturing student writing as key deliverables separating the UKZN SLR from other student journals in South Africa.
The workshop raised important concerns regarding originality of submissions with Vawda addressing the perennially topical issue of plagiarism. Other issues discussed included respecting the freedom of writers to decide how to express their academic opinions, the process of blind review, consistency in editing, and the possibility of publishing articles in isiZulu.
Going forward, a number of doors are open for the SLR to explore and expand, and to demolish hierarchical norms which are common place in law reviews.
Addressing this, Gevers said: 'Write about things that are not popular and things that make people angry. Pair student writers with lecturers.'
The workshop was used as a forum for intellectual debate. Issues were raised, debated, questioned and answered. Solutions to research-related problems experienced by academics and students alike were proposed, making it a successful event that the SLR hopes to repeat annually.
Reddi praised the workshop and the SLR project, pledging the support of the Law School and expressing trust that the project would grow from strength to strength.
* The UKZN Student Law Review is run by student editors, among whom are its founders. The team comprises Editor-in-Chief Mr Musa Kika, Ms Aideen Ross, Ms Priyanka Naidoo, Ms Londiwe Goba, Ms Samantha Walford, Ms Beatrice Moyo, Mr Amin Matola, Mr Tafadzwa Dhlakama, Ms Lavanya Pillay, Mr Ngonidzashe Mupure, Ms Phumla Tom and Ms Ntokozo Memela.
To view the first issue of the UKZN Student Law Review, follow this link: http://ukznstudentlawreview.wix.com/home#!first-issue/c21y4
Priyanka Naidoo and Musa Kika