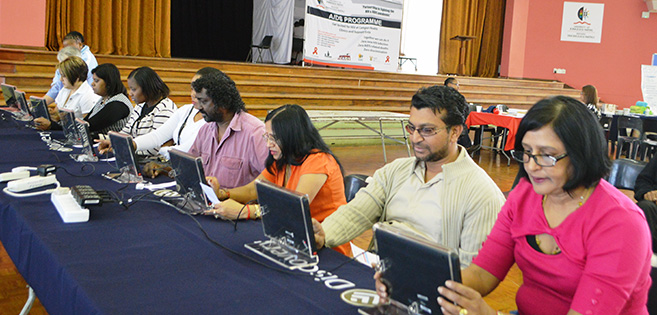 Promoting Employee Wellness at UKZN
UKZN hosted a series of Wellness Days in August aimed at improving the health of staff on all five campuses and at the Africa Centre in Mtubatuba.
Driven by the UKZN Medical Scheme and the Human Resources Division, the goal was to promote the physical, mental and social well-being of staff.
UKZN Medical Scheme Principal Officer, Mrs Philippa Hempson, explained the benefits for staff who attend the sessions. 'Knowing your current health state is the first step in ensuring your body can help you live life to the full, using the Wellness Day Pedometer Gift is the second!'
Discovery Health nurses were on hand to do cholesterol, blood pressure and sugar level tests as well as calculate BMI (Body Mass Index) levels. After filling in a quick online survey and inputting their test results, staff were provided with their "health age" and feedback on how to improve their wellbeing.
Sister Gertie Ndlovu of Diabetes South Africa listed the complications associated with diabetes which include strokes, blindness, heart attacks, kidney failure, impotence and amputations. She advised staff to eat healthy, drink lots of water, exercise regularly, and use the stairs instead of lifts to ward off or manage diabetes.
'Steam, grill, bake or boil, please!'
Mr Ndumiso Dludla of ER24 said UKZN staff should dial 084 124 in medical emergencies. While ER24 was the preferred service provider for UKZN Medical Scheme members, the ambulance service was happy to assist with emergencies for the general public.
The HRD Department and UKZN Medical Scheme thanked the following departments and companies which helped make the events a success: Discovery Health, Virgin Active, Diabetes SA, third-year students from the Optometry Department, UKZN HIV/AIDS Clinic and ER24.
Staff were pampered with massages and manicures courtesy of Revitalise Day Spa and refreshed with Kauai smoothies.
Raylene Captain-Hasthibeer