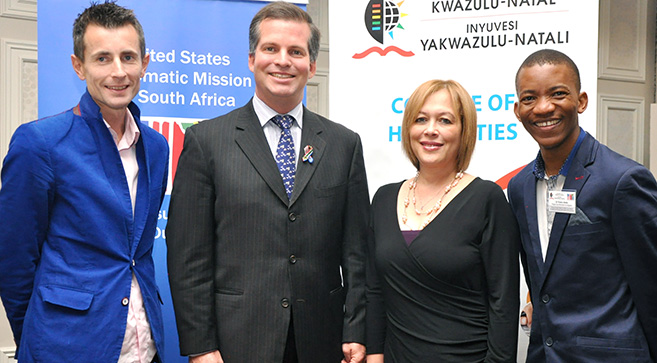 Training Aid Launched to Sensitise Teachers to LGBTI Issues in the Classroom
Deputy Vice-Chancellor and Head of the College of Humanities, Professor Cheryl Potgieter (Project Principal Investigator) and Co-Principal Investigators, Dr Thabo Msibi and Dr Finn Reygan from UKZN launched their hands-on, easy-to-use curriculum resource pack on 30 May at the Elangeni and Maharani Hotel. The resource pack stemmed from a study initiated in 2012 to sensitise teachers to Lesbian, Gay, Bisexual, Transgender and Intersex (LGBTI) identities in the classroom.
The study included 800 pre and in-service teachers in KwaZulu-Natal who were trained on how to develop competencies in teaching about sexual and gender diversity. It also skilled participants further on how to best challenge homophobia and transphobia in the classroom.
The initiative came into fruition at the end of 2012 when the research team saw a call for proposals from the US Consulate on LGBTI work in South Africa. The research team, which has done extensive work on LGBTI issues, submitted a proposal to the Consulate and having presented on related work at an LGBTI colloquium at which Consulate staff were present, was subsequently awarded an LGBTI research grant, after a rigorous and competitive process.
The launch included a project report and panel discussion on the role of schools in addressing homophobia and LGBTI issues in the curriculum. The panel was chaired by Mr Crispin Hemson (Project Associate) and included Ms Nonhlanhla Mkhize of the Durban Lesbian and Gay Community and Health Centre and Ms Glodean Thani, Assistant Director for Social Cohesion and Equity in Education within the Department of Basic Education.
Speaking at the launch Potgieter said, 'We have recommended that the training module be provided not just to Life Orientation (LO) trainee teachers but to trainee teachers across all subject areas.'
'Academic staff in Schools of Education should be adequately trained in advance on the issues contained in the training module so that they are sensitised and conscientised around these issues and therefore prepared to fully engage in an affirming manner with the training content.'
Dr Finn Reygan, who was a Post-Doctoral Scholar in Psychology at UKZN supervised by Potgieter during the time of the project, said the research team was strategic in designing the curriculum for Higher Education practitioners so that they can be comfortable in teaching future educators of the country about LGBTI issues. 'We hope this can bring about change on a large scale.'
Dr Thabo Msibi further added, 'We need to understand that our students are not blank slates. They come in with a lot of information, particularly as a result of socialization. We therefore had to take into account this early socialization into our teaching. Our focus had to take strong recognition of the roles played by culture and religion in shaping our students' ideas of gender and sexuality.'
US Consul General Mr Taylor Ruggles stated that the UKZN Education Module is a step along the path towards equality for all students and for the broader society and congratulated the research team and staff at the University for their diligent work on the project. 'This training module represents an important contribution to academic studies on the topic and it demonstrates what can be accomplished when the US and South Africa work together on a common cause.'
- Melissa Mungroo