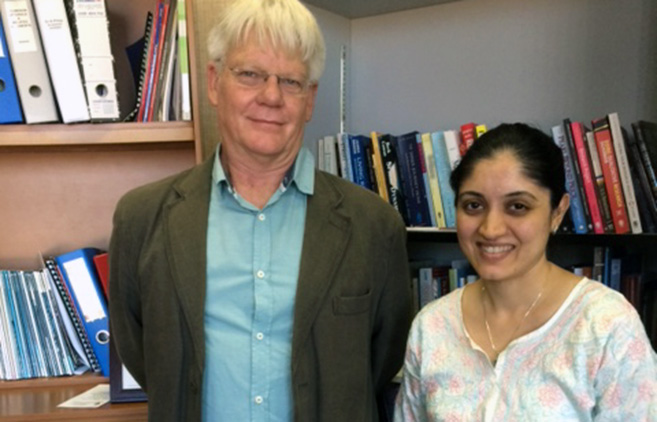 Riddel E-Assessment System Showcased
The e-assessment system known as Riddel was showcased at a recent workshop held at UKZN.
The workshop, hosted by the College Dean of Teaching and Learning, Professor Kriben Pillay, was conducted by a Lecturer in the Discipline of Information Systems and Technology on UKZN's Westville campus, Ms Upasana Singh, and a Senior Lecturer in the Department of Anatomy on MEDUNSA's Limpopo campus, Dr Pieter Ackermann.
Singh successfully implemented the first formative electronic assessment (e-assessment) in the School of MIG, using the Riddel software, which was provided to the School free of charge for a period of six months in 2013.
Ackermann developed Riddel, which has been used at MEDUNSA for a few years. The system supports a wide variety of multiple choice questions and does the marking of the questions automatically. It also offers extensive statistical reporting facilities as well as features that allow questions to be re-marked or excluded while automatically updating student marks.
Furthermore, the system provides a facility for short answer questions to be assessed, which can be marked online by one or more assessors.
The workshop started with a discussion on the need for e-assessment and then highlighted the initial problems faced with its implementation; how these were overcome to ensure a successful e-assessment session, and student feedback on their interaction with the system.
Thereafter, workshop participants were introduced to the tool, showcasing the various question types supported by Riddel. Participants were guided through the process of test creation, extracting of students' responses, and the marking procedure. Finally, participants were given an opportunity to interact with the Riddel tool.
The highlight of this workshop proved to be the opportunity for participants to interact directly with the tool during the session. Interested participants obtained a pilot copy of the system for interaction at their own convenience after the workshop session.
UKZNDabaOnline