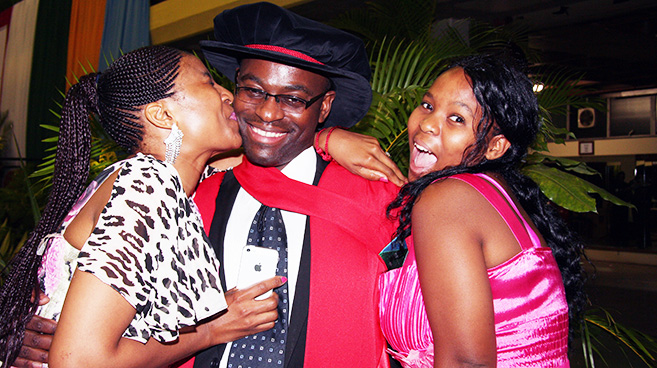 UKZN Alumnus adds a Doctorate to Impressive Academic Qualifications
'People always ask me why I have studied at the University of KwaZulu-Natal since 1994 and have never changed universities. My response has always been that over the years, I have developed a deep sense of pride in UKZN and I believe it is the best university in the country in terms of content delivery, academic discipline, adherence to the code of good practice, and most importantly to always driving students to achieve more.'
So says doctoral graduate Mr Ayanda Vilakazi whose recent graduation marked his fifth qualification from UKZN.
He holds a Bachelor of Commerce, a Bachelor of Commerce Honours, a Diploma in Business Administration, a Masters of Business Administration and now a Doctorate in Business Administration.
Over a period of 20 years, this wealth of knowledge has translated to a successful career in the marketing and communications industry for Vilakazi who is currently the Head of Marketing and Communications of Coega Development Corporation.
'After completing the MBA, I wanted to pursue doctorate studies in order to further develop my knowledge of public transport strategic marketing, understand the role of service quality as an important area of study, and contribute to a body of knowledge internationally in an effort to assist service quality practitioners (both operators and policy makers) improve public transport service, attract users, and provide solutions to the public transport conundrum in Johannesburg, and South Africa as a whole,' said Vilakazi.
In his quest to enhance his career as an academic while simultaneously contributing to knowledge and practical and sustainable solutions to the public transport sector, Vilakazi has accrued an impressive résumé. He has worked for organisations such as Simba, Exxon Mobil South Africa, Colgate-Pamolive, Johannesburg Metrobus, the Road Accident Fund, the Automobile Association of South Africa, Metropolitan Life Limited and Lama Marketing and Advertising, among others.
Apart from being knowledgeable in both the public and private sector, Vilakazi's passion lies in transport logistics and recently in economic development with a keen focus on public transportation and maritime from a services perspective.
'I am the current Chairperson of MC5 Shipping South Africa (Pty) Ltd, a maritime transport logistics company based in Cape Town. In my current position at Coega Development Corporation, I am also able to fulfil my interest in economic development and attracting Foreign Direct Investment (FDI) into South Africa.'
For his dissertation titled: "Evaluating Service Quality in South African Passenger Transportation", Vilakazi focused on the service quality dimensions of public transport, namely RECSA, to refer to the passengers' perceptions of reliability, extent of service, comfort, safety, and affordability of the transport service, as relevant and important for public road transport. The aim of the study was to evaluate passengers' perceptions of the quality of service by buses and minibus taxis utilising RECSA dimensions as important service dimensions.
'The study of public road transport in Johannesburg is important because public transport provides the benefit of personal mobility and contributes to the Gross Domestic Product.
'The minibus taxi industry in particular is estimated to contribute more than R30-billion to the GDP of South Africa – and provides economic participation to people who rely on public transport for their daily mobility needs.
'I wish to use the insights gained during this research and apply it more broadly to transport solutions across South Africa,' he said.
While his academic and business pursuits may monopolise most of his time, Vilakazi still makes time for family activities such as watching soccer with his nine-year-old son Ayanda Jnr, spending time with his wife of 11 years Malindi and grooming his 19-year-old daughter Nombuso who is currently a first year BCom student at UKZN to follow in her father's footsteps.
- Thandiwe Jumo