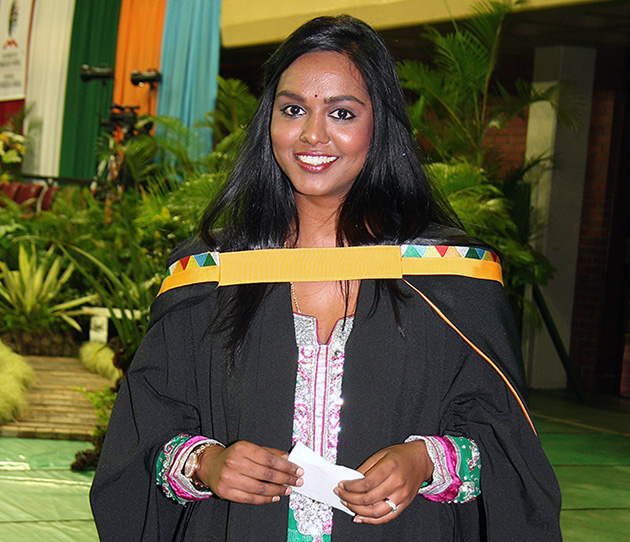 Graduating Cum Laude is the Cherry on Top for MBA Graduate
The process of planning a wedding can be overwhelming for any bride but add studying for an MBA to the mix then that's a sure fire recipe for a stressful situation demanding a careful balancing act!
MBA cum laude graduate Ms Levashni Moodley managed it saying it's all about setting goals and sticking to them.
Moodley who tied the knot with her partner Mr Denver Naidoo managed to pursue a long distance relationship during her studies and planned her wedding during the final year of her MBA dispelling the myth that the qualification is a "divorce course".
'Denver was very easy-going and gave in to my many requests, which made planning the wedding an absolute delight. We had great assistance from both our families, especially from our mums and sisters,' she said.
As much as she had the support of her family, as the then Financial Manager of Sibaya Casino and Entertainment Kingdom which is a demanding occupation, Moodley also needed the support of her employers for her to succeed in her studies.
She has now relocated to Johannesburg and is currently employed as a Finance Executive at Vodacom. Moodley's dissertation titled: "The effectiveness of a loyalty programme at one of the leading casino in KwaZulu-Natal" revealed that the system of customer loyalty programmes is a successful mechanism in order to gain customer loyalty and increase profitability in the casino industry.
'I chose this topic because I am aware that a casino invests a considerable amount of money in loyalty programmes and I wanted empirical evidence that this money is well spent in attracting and retaining customer,' said Moodley.
While Moodley expected to graduate this year because she had done well in the course work she did not expect to graduate cum laude - an achievement which she describes as 'the perfect culmination of more than two years of sacrifice'.
'At the start of my MBA, I set myself a goal to graduate cum laude so I am proud of myself for achieving this. I believe that an MBA is a sought-after qualification for all aspiring leaders and I am humbled to now be a part of this esteemed pool of talent. I thoroughly enjoyed my time spent pursuing my MBA and there is not an iota of doubt in my mind that it is a worthwhile qualification – it equips you for success in both professional and personal spheres of your life,' she said.
Moodley's supervisor and the Dean and Head of the School of Accounting, Economics and Finance, Professor Anesh Singh, said: 'It is evident that Levashni worked extremely hard to get the distinctions for her dissertation. Being a slave driver I pushed her hard but she was up to the challenge. I will be working with her to submit her work to relevant journals.'
- Thandiwe Jumo