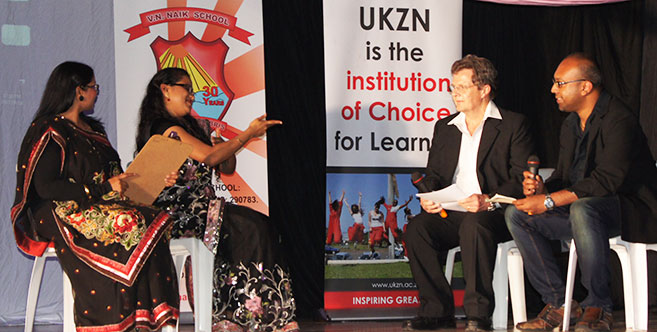 Sign Language DVD Launched
Improving communication between deaf or hard of hearing children and their parents is the goal of a recently released South African Sign Language DVD.
The DVD which was a collaborative project between UKZN's School of Management and Information Technology's Department of Information Systems and the VN Naik School for the Deaf.
The DVD was launched at the School's 30th Anniversary Celebrations where UKZN Alumnus and KwaZulu-Natal Blind and Deaf Society President, Mr Justice Zakeria (Zak) Yacoob, was the guest of honour.
The thematically designed, menu-driven DVD uses images, video and audio to add illustrative reference to an item being communicated through sign language.
Information Systems and Technology Technical Support staff Mr Ashwen Singh and Mr Mike Morum, who developed the visual technology aspect of the DVD, said seeing the world through a deaf or hard of hearing person's eyes was an enriching experience.
'I believe the advancement of technical resources is a step in the right direction for teaching and learning and I look forward to more projects such as this one in the future.'
Morum added that the School of MIG welcomed more opportunities to enhance teaching and learning in the country through collaboration between the School and the education sector.
In his address, Justice Yacoob commended the VN Naik School for its efforts towards ensuring that deaf and hard of hearing children play a role in society.
'Our objective is that hard of hearing and deaf people are inspired to achieve and live the best possible lives. Education by itself is not enough therefore we must explore all avenues to empower the pupils of this school to achieve something in society,' said Yacoob.
VN Naik Principal Mr TM Govender applauded UKZN staff for their contributions and offered them an opportunity to collaborate with the School again on other tertiary level programmes they plan to develop.
- Thandiwe Jumo