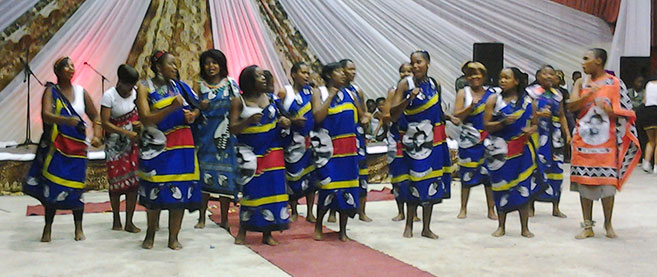 Edgewood Campus Celebrates Heritage in Grand Style
A heritage celebration was held on the Edgewood campus with all students living in residences there taking part in the splendid cultural occasion.
Residence Life Officer, Mr Julian King, said the event – organised by the Student Residence Life Office - was aimed at celebrating and acknowledging cultural diversity in unity among students.
'Edgewood campus residences house a wide range of diverse students from different walks of life, both local and international. They all embrace and celebrate different cultures and that needs to be acknowledged and respected,'said King.
Keynote speaker Mr Clinton Anyanwu, a Nigerian-born student doing his Masters in Education, commended South African students for not shifting away from their culture and heritage as many young people in other countries did. He was proud that students still had the courage to celebrate where they came from.
'A nation which has lost its culture and tradition is doomed,' he said, emphasising that it was the responsibility of young people to ensure culture and tradition lived on as it was there that people discovered their true identity.
Students took part in a competition in which they displayed various traditional practices including music, dress code and food reperesenting cultures and traditions from isiZulu, SiSwati, IsiNdebele and IsiXhosa nations among others. Some performed Indian and Nigerian dances as a means of demonstrating unity in diversity within the University. The highlight of the evening was a demonstration by Pinewood Residence students who displayed a fusion of local cultures in the historic Sophiatown concept.
Head of the Department of Student Residence Affairs (Edgewood and Westville), Mr S'busiso Khumalo, applauded students for their dedication and commitment in taking pride in their culture. He also congratulated the Residence Life Assistants for organising the successful event.
S'busiso Kubeka