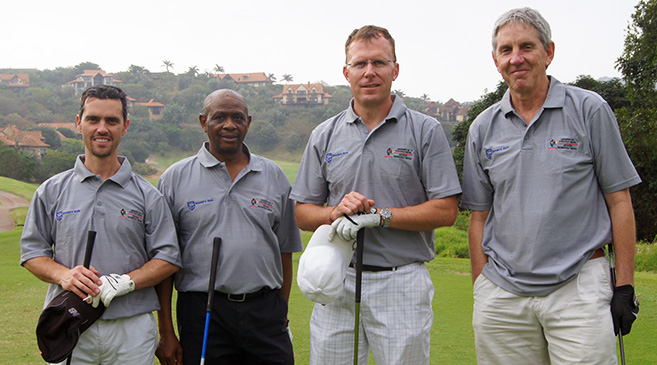 Funds for Bursaries Raised at Golf Day
A total of R172 000 was raised at this year's UKZN Golf Tournament at the Wild Coast Country Club near Port Edward for bursaries for academically deserving students from disadvantaged backgrounds.
The annual Golf Day has become a tradition for many players who return every year saying "golfing with a cause" draws them back.
Eight bursaries worth R10 000 were awarded after the tournament from the funds generated. The recipients - two students from each of the four Colleges – are Mvuselelo Mhlongo and Thembeka Mhlongo of the College of Agriculture, Engineering and Science; Raeesa Shaik and Megan Saunders of the College of Health Sciences; Marne Willemse and Alindile Njisane of the College of Humanities; and Renolan Padayachee and Raymond Ntuli of the College of Law and Management Studies.
Chair of the Golf Committee, Ms Shakila Thakurpersad, who has organised the event since its inception, said: 'I am delighted with the overall interest and support the University community has shown in the Golf Day.
'The overwhelming response from both players and sponsors every year has contributed significantly to the continued success of this event. The Golf Day also provides us with the opportunity to interact informally to consolidate existing relationships while raising much funds for bursaries for students from poorer communities.'
Played on an individual stableford points format, the day attracted 108 golfers with the winner being Mr Chris Koen from Botswana who was on holiday celebrating his birthday. Second in the guest category was Mr Todd Somaroo and third was Mr Brian Kisten.
Mr Randy Phalad from Legal Services was the winner in the Staff/Convocation Category with Mr Vish Naidoo of the University of Zululand second and UKZN alumnus Mr Jeffrey Govender third.
The women's section was won by Ms Sharon Sjoblom from the Medical School campus.
The occasion - a valuable networking opportunity for staff, students, alumni, friends of the University, sponsors and the golfing fraternity - provides local companies with an excellent opportunity to promote their products to UKZN stakeholders.
The tournament would not be possible without the generous contributions of the sponsors, Standard Bank.
Speaking at the function, the Head of Corporate Sales at the bank, Mr Themba Rikhotso, said Standard Bank was deeply honoured to be associated with the 10th anniversary of the UKZN Golf Day and felt very humbled to be the main sponsors.
'This is the fourth year running we have been main sponsors of this event.
We believe this is a really good cause so the sponsorship is our response to Nelson Mandela's call for action when he said: "A nation should not be judged by how it treats its highest citizens, but its lowest ones".'
- Indu Moodley