KZN Produces the First Nuclear Physician
'Graduating as the first Nuclear Physician to have been trained in KwaZulu-Natal (KZN) is an amazing feeling. It's something that brought pride to my family. I hope this achievement will encourage more young people in the province to pursue a similar career path.'
African Centre for Crop Improvement Launches Book Celebrating 15 Year Milestone
The University of KwaZulu-Natal's (UKZN) African Centre for Crop Improvement (ACCI) celebrated the launch of a book titled, African Centre for Crop Improvement, The New Breed: Training the Next Generation of African Plant Breeders, in Africa, on 24 January in Pietermaritzburg.
Life Sciences Research Benefits from Ford Wildlife Foundation Research Vehicle
Professor Colleen Downs, from the School of Life Sciences, Pietermaritzburg, and her research team received a Ford Ranger from the Ford Wildlife Foundation (FWF) in December 2017. The research vehicle will support their research on a number of topics related to terrestrial vertebrates, changing land use and more.
Drama and Performance Studies hosts Swiss Choreographer for Dance, Diversity and Disability
In an unprecedented exchange that has taken almost two years to set up, Swiss choreographer Jürg Koch, arrived in Durban on 31 January 2018 to work with UKZN dance studies graduates and Flatfoot Dance Company.
SMIG Collaborates with German University to Enhance Responsible Creative Innovation and Technology Management
UKZN's School of Management, Information Technology and Governance (SMIG) in partnership with the Chemnitz University of Technology's (CUT) Faculty of Economics and Business Administration, will participate in the Joint Expertise Project (JEP) to be held in Chemnitz, Germany and Durban, South Africa.
Enactus UKZN Hosts an Innovation Challenge
On the weekend of the 13th of January 2018, Enactus UKZN members were up until the wee hours of the morning preparing for their first ever Innovation Challenge. This highly competitive challenge was held at UKZN Westville campus where the Enactus UKZN team also held its annual January Camp.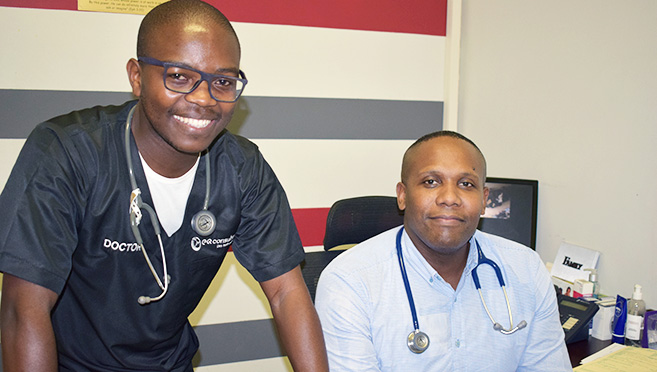 Odokotela Abasebasha Bavulela Amathuba Okufinyelela Kwezempilo Emlazi
Click here for the English version

Odokotela abaningi abasebasha bakhetha ukuqala izindawo zabo zokusebenzela ezindaweni ezisemadolobheni eziphithizelayo nasenxanxatheleni yezitolo kodwa lokhu akubanga yindlela oDkt Siphesihle Dlamini (27) nabambisene naye ebhizinisini uDkt Langelihle Ngubane (37).
UKZN Students Welcomed at Orientation 2018
The University of KwaZulu-Natal's 2018 Orientation events, recently held on all five campuses, saw large crowds of excited students attend, eager to learn about what the University had to offer.
Honour Bestowed on Molefe - UKZN's Most Inspiring – Top 40
Meet final-year Bachelor of Education (BEd) student Mr Luthando Molefe. In November 2017 Molefe received recognition as one of UKZN's top 40 most inspiring students. This was after he entered the UKZN Spotlight to Greatness Competition.
Macroeconomists Hone Modelling Skills
The School of Accounting, Economics and Finance's (SAEF) Macroeconomics Working Group (MWG) recently organised a three-day macroeconomics modelling workshop that was attended by academics from the Universities of KwaZulu-Natal and Zululand.
Seminar on Nelson Mandela –Fidel Castro Collaboration Program (NMFCCP)
The Dean of Teaching and Learning at UKZN's College for Health Sciences, Professor Sinegugu Duma, recently hosted a seminar on the integration of the Nelson Mandela-Fidel Castro Program (NMFCCP). The main aim of the seminar was to address challenges raised by students who are currently part of the programme.